If you are an advanced Windows user and want to have everything under your control, Windows provides with helpful tools in order to manage your system. Some of the tools for managing your system include Windows Task Manager, Microsoft Configuration utility, Resource monitor in Windows 7 etc. Although the device manager takes care of the installed devices and their drivers, there is no default way we can manage the drivers like services and processes in Windows.
ServiWin is a small portable software from NirSoft which proves to be very handy to manage drivers and services in Windows. By using ServiWin, you can easily start, stop, pause or resume a service or a driver. The drivers are displayed pretty much in the same way as services. You can easily see which drivers are loaded. You can also change their startup type to automatic, manual, disabled, boot and system.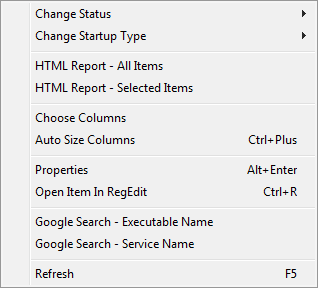 Using ServiWin is very simple. If you have used the Services in Windows (services.msc), you will be able to use ServiWin without any problem. Pressing F7 will bring the list of drivers installed in the system and pressing F8 will show the list of services in Windows. Right clicking any item will let you manage the item in many ways including changing the startup type, changing the status, get properties of the file and search Google with the file name.
You may also be interested in 8 free Windows driver backup tools.