Vistalizator For Windows 7 SP1 Adds Launguage Pack (MUI) To Any Edition
Vistalizator lets you add any language pack mui to any edition of Windows 7 including Windows 7 SP1, Windows 7 Starter Edition and Windows 7 Home Basic.
The Multilingual Language Pack (MUI) can be installed on Windows 7 Ultimate and Windows 7 Enterprise editions only. For example if you have Windows 7 Starter edition or Windows 7 Home Basic edition, you will not be able to install the language pack and Windows will only run with the default language pack installed with Windows.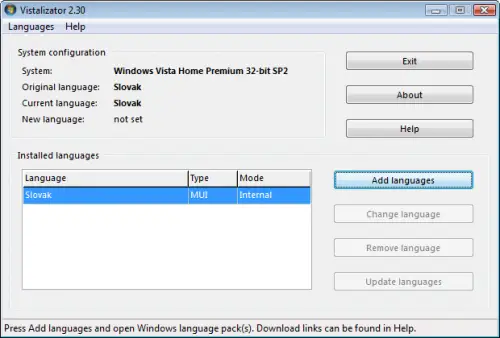 There is a third party software called Vistalizator. Vistalizator can install the MUI language packs even on the non-supported Windows operating systems like Windows 7 Starter and Windows 7 Home Basic. Vistalizator can also be used with Windows Vista. Vistalizator gets rid of the one language pack restriction of the non-supported Operating Systems. You can install your favorite language pack with Vistalizator. Some features are listed here:
Works in 32-bit and 64-bit Windows Vista/Windows 7
Change Windows display language in less than 5 minutes! (Express installation mode)
Uses official Microsoft Windows language packs
You can install all 36 MUI languages and switch between them easily
You can install 55 Vista LIP languages on top of specific MUI languages
Compatible with Vista Service Pack 1 and Vista Service Pack 2
User Account Control (UAC) compliant – prompts for administrative privileges
Windows Speech Recognition works with all supported languages:
Chinese, English, French, German, Japanese and Spanish
Languages can be installed either in Internal or in Express mode
How to use Vistalizator for Windows 7 SP1

Download MUI language pack of your choice here.
Run Vistalizator and load the language packs that you have downloaded in the previous step
Press Add languages button
Wait for the installation process to complete and accept to change the display language
Restart the computer after changing the MUI language
Now Windows will start in the language that you have installed.
I think Vistalizator tool is very helpful for those who want to work in languages other than English which is the default language of Windows 7. What are your experiences about this Vistalizator tool? Use it and let me know through comments.