Java 7 Update 21 has been released by Oracle. Oracle has been working tirelessly to make sure that Java remains secure in the future. Java was in danger of its existence when many security vulnerabilities were found of which some were already being exploited on the Internet. If anyone is interested in reading the history of updates of Java, just head towards Java tag which will list all the updates we have been covering.
Java 7 Update 21 is a critical update for April 2013. A total of 42 vulnerabilities have been fixes. The update also contains some non-security patches. 39 of the security vulnerabilities are remotely exploitable meaning that they have a very high severity level. Of these 42 vulnerabilities only two affect the server deployments of Java.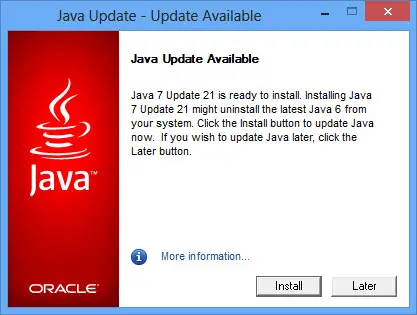 Going deep into the updates reveals that Oracle has changed how Java runs on computers. Now Java requires code signing for executing the Java applets and programs. It will alert the user of unsigned, self signed or expired certificates to make sure that the user understands what he is doing.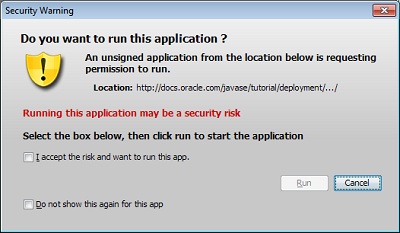 You can learn about Java code signing here.
Oracle recommends that the Desktop users download and apply this update as soon as possible.
Java 7 Update 21 offline installer links
For Windows
Download Java 7 Update 21 Runtime 32-bit installer
Download Java 7 Update 21 Runtime 64-bit installer
For Mac OSX
For Linux
Download Java 7 Update 21 32-bit RPM
Download Java 7 Update 21 64-bit RPM
For Solaris and other Operating Systems, you can find the installers here. For complete information about the latest update, you may want to read the release notes.
If you are using Portable applications, you can also download portable version of Java 7 Update 21.