Microsoft Office 2013 RTM version was released a few days ago and is available for download.  Although it is very similar to Office 2010, it is better in performance, speed and many other features. As soon as Office 2013 got released, the hackers and crackers have been busy in preparing some kind of activators or keygens which can be used to activate Office 2013 multiple times.
This time, the crackers have taken an innovative approach by using Youtube as their marketing weapon. The hackers have been busy creating Youtube videos which show working activators of Office 2013. These activators can be used to generate unlimited number of Office 2013 product keys so that everyone can used them.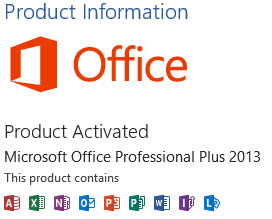 If you go to Google and search for "Office 2013 activator", you will be greeted with Youtube videos with similar titles like the following:
Microsoft Office 2013 (OFFICE15) Permanent Activation
Microsoft Office 2013 activator [100% working]
Office 2013 activator
Microsoft Office 2013 activation key
Office 2013 KMS activation
Office 2013 activation tutorial
Office 2013 serial key
These are only examples. You can find several more titles and videos on Youtube. Basically, when you encounter one of these titles, be warned that all these Youtube videos tend to be created to trick the user to either install a Trojan in their computer or complete a survey which may have monetary benefit to the video creator.
This is very similar to fake Windows 8 Product Key generators which surfaced after Windows 8 was released. When you encounter a Youtube video or a webpage claiming that they have the Office 2013 activator which is working 100%, make sure that you do not get into their trap of installing malicious software on your computer.
First of all, don't get into completing surveys just for getting the download link for Office 2013 activator and secondly, don't download or run any seemingly innocent activator or product key generator on your computer. This may harm your computer without getting into your knowledge.
We highly recommend that you should always use legitimate software which are free from viruses and Trojans. A steps towards the wrong direction can cause problems for your computer especially when you have important data saved in it. You can always buy Office 2013 to be safer or use a free alternative like LibreOffice. Otherwise, go for a subscription based solution like Office 365.
Have you encountered any of these fake activators? What are your experiences about these? Do they really work or are they just scam?