Windows 8 has added the ribbon UI in Windows file explorer which distinguishes it from the earlier versions of Windows Explorer. The Ribbon UI provides many useful tabs that help you perform your task easily. It comes with the File, Home, Share, View, Manage and Search tabs that offer one click access to set various properties of your object file, item or folder.
In this article, we will discuss about customizing the Ribbon interface to make it more productive and easy to use for ourselves.
We will be using the group policy editor to customize the Ribbon interface in Windows 8. Before proceeding further, you will have to open the group policy editor (Run –> gpedit.msc) and go to the following tree:
User Configuration -> Administrative Templates -> Windows Components -> File Explorer.
Double Click File Explorer.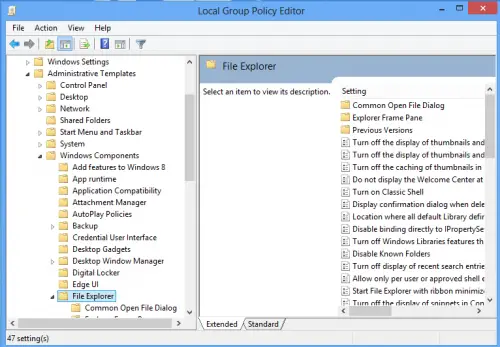 Read more7 Ways to Customize Ribbon UI in Windows File Explorer