Microsoft Windows Journal is a note taking application that is included in Windows 7 ,Windows 8  and Windows XP  Tablet PC. It allows the user to write the notes on his tablet using the stylus. You can also enjoy drawing and sketching on this journal with some basic options. It saves the files in the .jnt format which is a less popular format. You can also take notes or draw sketches using the mouse (hold the left click and move your mouse), if you have a non-touch screen.
Install Journal Note Writer
When you will open the Windows Journal for the first time, it will seek your permission to install the Journal Note Writer. Click install to complete the installation process. This writer will be used to print your text or image documents in the .jnt format.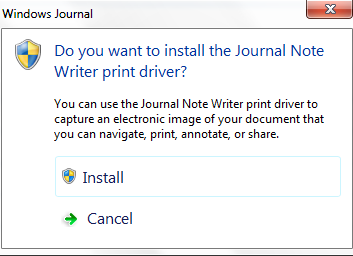 Read moreBeginners Guide to Microsoft Windows Journal For Tablets