The latest reports from Microsoft suggest that Keygens are the number one threat for Windows 8 and Windows 7 users. The research came in after analyzing the user submitted reports to Microsoft. The reports submitted by users are usually from Microsoft's own security products like Windows Defender and Microsoft Security Essentials.
What are keygens?
Keygen is a short form of key generator. Software make use of license keys to authenticate the original users who have purchased the software. Usually the license keys are generated automatically using a certain algorithm. Hackers and crackers crack that particular algorithm and create their own key generators. This will enable them to create unlimited number of licenses of that software.
Since this is not done without purpose, crackers will bundle the keygen software with malware and spyware. This means that the keygen will work perfectly but it will also install other malicious software in your computer or deceptively do anything like downloading other malware or force the user into buying a legitimate software from a trusted source.
According to Microsoft, keygens are the most used source of distributing malware across modern Operating Systems like Windows 8 and Windows 7 because they have already beefed up their security from outside. Here is the detection trend for a number of notable and potentially unwanted software families in 2012.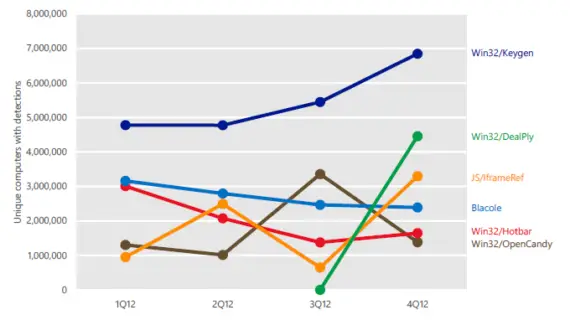 And here is the table of malware and potentially unwanted software families most commonly detected by Microsoft antimalware solutions in 2012 Q4.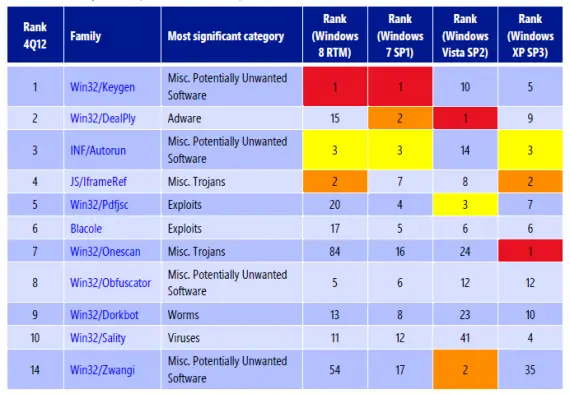 Securing yourself from keygens malware
The best way to secure yourself from this type of malware is not to use any key generators because most of the times it is illegal as most of the times it is used for pirated software. Using keygens is synonymous to inviting malware to your own computer. This is because the keygens are being targeted by hackers and crackers for hacking into the Operating System especially the modern ones like Windows 7 and Windows 8.
If it is an absolute necessity to use a keygen, always have your antivirus solution active at the time of running the keygen. If the antivirus gives any warnings, don't take it lightly and stop using the keygen. Secondly, take a backup of your computer settings and data. This is because if anything happens, you will be able to revert everything to normal. Third, if the keygen is not big in size, you can scan it using VirusTotal which will scan the file with many popular antivirus engines making sure that you remain absolutely safe while using the keygen.
Do you use keygens on your computer? What is your purpose of using keygens? Did any malware affect your system because of using keygens?