Microsoft has recently launched a new website yourbrowsermatters.org especially designed to educate the users about the security of their browsers. The website evaluates the browser in which it is opened. It evaluates the following four major features:
Dangerous downloads
Phishing websites
Attacks on your browser
Attacks on websites
The website answers some easy to understand questions about the security of your browser. Interestingly Microsoft's latest browser Internet Explorer 9 gets 4/4 score which is perfect. While When I performed the tests on Firefox 7, it got 2/4 and Google Chrome got 2.5/4. Microsoft's older browser IE6 got 1/4.
I also tried the test on Opera and Safari but the score was not available for those browsers.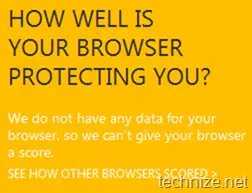 It's good to have a tool for scoring the browser security but as this tool is from Microsoft, it seems biased towards their own product, Internet Explorer. But I think it is a good way to encourage users using older versions of Internet Explorer to upgrade to the latest more secure one.
See your browser score.