The introduction of ribbon bar in Windows Explorer in the Windows 8 has enhanced the user experience to a great deal. Windows 7 users may be familiar with a search bar in the start menu or at the top left corner of in the windows explorer. But, Windows 8 users have been gifted with an advanced search tool through the ribbon bar. This search tool provides several options that can help narrow your search and displays the most relevant results. In this tutorial, we will explain different techniques through which you may use this tool efficiently.
Search by Property
1- Search by size
You can restrict your search by specifying the range of file size. Search tool has pre-defined size ranges named as empty, tiny, small, medium, large, huge and gigantic. You can select a suitable range for your document, file, folder or program by clicking on the 'Size' drop down list or write size: tiny in the search bar.
2- Search by kind
Size range option may not seem very helpful to home users as they can not make a guess about file size. So there is another useful property which is easily understandable and memorable by all. Search by the file kind like calendar, contact, picture, music, e-mail, note or etc.
3- Search by Tags
Similarly, you can assign tags to files and folder when you save them so that 'Search' can efficiently bring them in front of you.
tags:="profile pic" OR tag:="rahmeen"
4- Search by Type
You will definitely appreciate the advanced algorithm at the back end of search tool. If you write "type: " in the search bar, the auto-complete feature will display a list of type including .jpg, .JPEG, .xps, .docx and others. But, if you have mentioned the kind of file it will display the possible options only to avoid any misguided instruction. For example, a document can not have a '.jpg ' type so it will not be included in the auto-complete list.
5- Search by Date
Just like other properties, date can also be used to filter search results.
This option lets you specify any particular date, today, yesterday, this week, last week, this month, last month etc. What if you want to see search results of files from a month which was previous to last month? Try the following:
Using Advanced Query Syntax
You will notice that as you select any specific search property its keyword is displayed in the search box. This can be exploited by programmers as they love specifying explicit conditions. You can learn Advanced Query Syntax that is a new inclusion in windows8 search tool. It makes use of the 'Boolean Operators' that allow you to mention different choices at one time. For example, you may be looking for 'Intensity' which can be any document name or mp3 audio. Or you may be looking for a contact which you added last week. You can tell search tool about your requirements by typing:
kind: =document OR kind: =music
kind: =contact AND date: last week
Note: Boolean operators are case-sensitive and they will respond correctly when written in upper case.
Set Advanced Search Options
You can define how to do you want 'Search Tool' to find the files, folders or programs for you. Go to Search -> Advanced Options.
Tell the search tool if you want to match the names partially. You can also include or exclude indexed locations from being searched through the same dialog box.You may also specify the type of files and directories to be included in search results.
Another way is to set search options without opening search tool.
Go to View -> Options -> Change folder and search options.
If you are not satisfied with the search results for the first time, you can 'Search Again in' libraries or Internet.
Make your Search Faster
Although, there are many advanced options to filter your search results but we tend to have some 'Most visited' files and folders. So, why not add them to 'Favorites', 'Library' or 'Pin to Taskbar' ?
Go to home -> Select file/folder name.
In the ribbon bar, click 'Easy Access' and select your desired option.
Save Your Search
'Recent Searches' is the place that auto-saves your recently searched files and folders. You can find 'Recent Search' option in the 'Search' tab. You may clear search history using the option provided at the end of drop down list.
In case, you like to save some search results for future use:
Go to Search -> Save Search.
Give it a proper file name and add appropriate tags. Click 'Save'.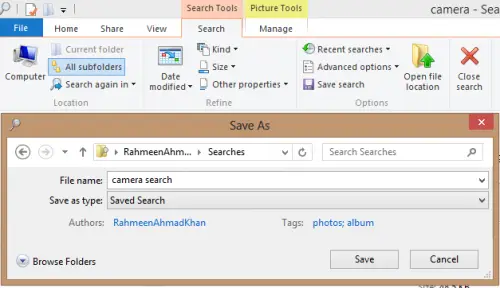 Keyboard Shortcuts for Search
These are some keyboard shortcuts that will open the metro search tool and you can search apps, files or settings directly.
Win key + Q -> Start Apps
Win key + F -> Search for files and folders
Win key + W -> Settings
Win key + E -> Windows explorer
Ctrl + F -> Opens search tool inside Windows Explorer.
Customize Search Settings
Finally, we can customize search settings using the control panel. You can select the applications that you want to displayed in the search option. You may also enable or disable auto-save search results for future suggestions. Delete search history by clicking 'Delete History' button.
Move your cursor to the corner of the screen so that metro app appears.
Select Setting -> Change PC Setting.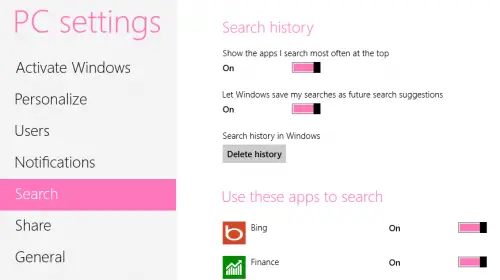 Although we have emphasized Windows Search techniques for Windows 8, all these advanced search tasks can be performed in previous Operating Systems including Windows 7, Windows Vista and Windows XP.
I hope this guide will be helpful for you and I'd like to thank you for reading. If you like the article, please leave a helpful comment and share it with your friends.