Windows 8 improves on Windows 7 in a many aspects including the re-designed task manager. Windows 8 task manager give a lot more details about processes and system. Windows 7 users may not be willing to switch to Windows 8 because of various reasons but now Windows 7 users can enjoy Windows 8 Task Manager without switching fully. 'DBCTaskman' is a task manager application that is similar to Windows 8 task manager and can run on Windows 7. This manager has more or less the same options as provided by the native task manager. It has the following tabs:
Processes: It displays information about processes like process name, status and consumption of  disk, cpu , memory and network.
Performance: It represent the performance of hard drives, ethernet and CPU in the graphical form along with some information about the number of threads, handles, uptime, and number of running processes.
Users: It is useful for multiple users sharing one computer. It lets you know how much resource every individual is consuming.
Details: It tells process id, image type, user name, memory and description.
Services: Another list of stats for the services running on your system displaying id, status, start type and group.
Running DBC Task Manager on Windows 7
DBC Task Manager can be downloaded from Neowin. Since it is a portable app, you will only need to unzip and run DBCTaskman executable.
Unfortunately, DBC Task Manager does not have any option to replace the default task manager. So you will need to run it manually in order to run this task manager which is similar to Windows 8 Task Manager. If you are a keyboard junkie, you can always configure a keyboard shortcut for DBC Task Manager so that you may be able to run it directly from the keyboard.
The shortcut key can be configured as follows:
Right click on the application -> Select 'Create Shortcut'.
Now, right-click on the shortcut -> Select 'Properties'.
Set the shortcut key as : Ctrl + Alt+ T.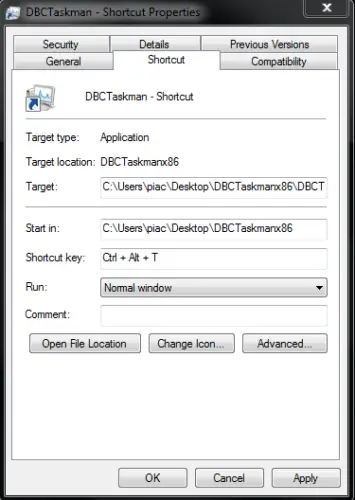 This is how your new task manager will look like. It does not consist of the 'Networking' tab, however, you can still see the  list of processes, performance details, users, details and services. If you are a keen observer, you will note that it shows the same statistics as your native task manager. However, in my case, system uptime was not the same in both managers.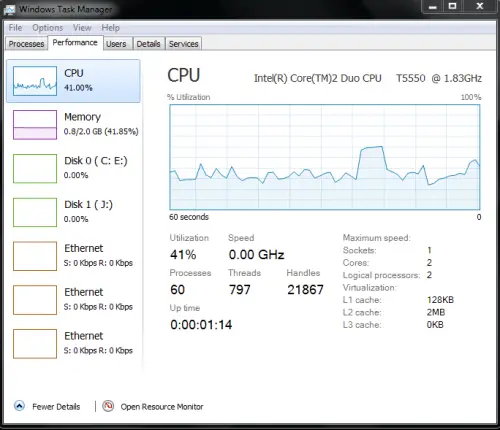 You can also open the Resource Monitor directly from the task manager to get in-depth knowledge about the resource utilization.
Click 'Open Resource Monitor' in the bottom.
Click on the Processes tab and enjoy a cleaner look and detailed information about background processes and the currently running apps. There is a loophole present in the processes. If you want to end a process, you will select a process and click 'End Task'. You will be disappointed to see nothing happens. Since the task manager is still in work in progress, you will see these kinds of shortcomings. But certainly we'll expect a more featureful Windows 8 task manager for Windows 7 in the coming versions.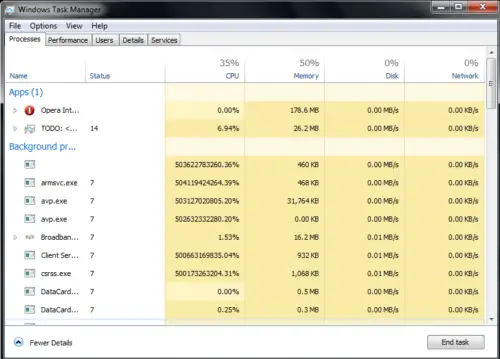 If you are not interested in details about every process then you can click 'Fewer Details' option at the bottom. It will hide all the columns except the app and process name.
Note that  'Switch To' and 'New Task' tabs are not present in the Windows 8 Task Manager, but you can still run a new task by:
Go to File -> Run new task.
Type the task name.
DBC Task manager is not a complete replication of the Windows 8 Task Manager as it does not contain the start up and the app history tabs that made Windows 8 Task Manager powerful. We can expect the developer to add the 'Startup' tab so that the users can customize their Startup programs and apps directly through task manager. Although the app history is limited to the metro apps history in Windows 8, but it would certainly be a nice idea to include a history tab for the non-metro apps of Windows 7. DBC Task manager is still work in progress and we can hope that the bugs of the current task manager will be fixed in the next versions. All in all, this task manager won't disappoint you and would serve you rightly as your native manager will.