The all new Windows 8 brings the two new worlds to us: first one is improved Desktop environment and second one brand new Metro apps platform which has been optimized for touch based devices like smartphones and tablet computers. While the desktop environment with no start button might seem irritating at first but as soon as you get indulged with it, you'll start loving it. And after all you've to switch to Windows 8 someday if not today. Microsoft is also offering lucrative upgrade prices for windows 8, so why don't you adopt it today if you haven't adopted it yet?
In this article, we will be discussing some of the productivity tips and hidden features of Windows 8 which you may not know about. Using these features will enable you to be more productive in everyday operations with Windows 8.
The 'hidden' Start Menu
We know that moving cursor to the bottom-left part of window pops up the metro style start menu button for us and a gentle left click on that part takes us to metro style start menu, but do you know that right clicking that area pops up a hidden start menu. If you're not familiar with it, give it a try, you'll definitely love it.
Sync your setting across Windows 8 machines
Like Android, you can synchronize the settings across different Windows 8 computers. For that you have to connect your PC to a Microsoft account and after that enable this feature.
For enabling, go to right-bottom corner: Click Settings –> Change PC Settings –> Sync PC settings and enable the sync feature.
 Take Screenshots easily and quickly
Windows has included new screenshot functionality in Windows 8. Earlier you have to press print screen button to take a screenshot and for saving it you have to paste that shot to MS Paint from clipboard. But in windows 8, just press Win + Print Screen and the screenshot will be automatically saved to the Pictures folder.
If you are using Microsoft OneNote, pressing Windows Key + S will also take a screenshot which will give you more options that the Windows 8 screenshot application.
Enable Start Screen Animation
You might have noticed a trendy and cool flowing start screen animation when you log into Windows 8 machine for the very First time. But Microsoft has programmed that animation for first time only. If you want to see it every time you open the Start Screen then you have to apply a quick registry tweak.
Press the win + R button and type "Regedit" for opening registry editor.
Navigate to HKEY_CURRENT_USER –> Software –> MicrosoftWindows –> CurrentVersion –> ImmersiveShellGrid. Now create a new value (DWORD 32 bit), name it LauncherSession and assign it value "1". Close the editor and restart the computer for the changes to take effect.
Changing the row count in start Screen
By default there is a 3 tiles row in metro Start Screen but you can change the number of rows to 4 or may be 5 by following a simple registry tweak.
Navigate to HKEY_CURRENT_USER –> Software –> MicrosoftWindows –> CurrentVersion –> ImmersiveShellGrid.
Now create a new value (DWORD 32 bit), name it Layout_MaximumRowCount, assign it value to a maximum of 5 and change the base to decimal. And if somehow, the Layout_MaximumRowCount entry already exists, you only have to change the value and make sure that base is set to decimal. Close the editor and restart the computer for the changes to take effect.
Schedule maintenance in Windows 8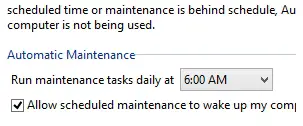 You can schedule your Windows 8 system to perform maintenance tasks like, virus scanning, installing updates, virus database updates etc. For enabling this feature, go to Control Panel –> Action Center and set the desired timing and schedule auto maintenance.
Enable Aero Lite theme
You may be missing Windows 7 Aero theme but we have a trick that can be used to bring the Aero Lite theme back even on Windows 8. For enabling it follow the below steps:
Press Win+ R to open RUN, enter Resources in it and press Enter. On pressing enter, an Explorer window will be opened containing two folders.
Open the Themes Folder and then Aero folder. Copy the aerolite.msstyles file to the Themes folder.
For enabling the Aero theme, we have to create a configuration file. For creating it, copy the aero.theme file from the "Themes" folder and paste it somewhere on desktop.

Open that file with a notepad and make following changes to it:

Change the Display name = Aero Lite (in Line 5)
Next press Ctrl+F to find [VisualStyles]. You'll find a "Path=…" string just below it, change that path to  Path=%ResourceDir%ThemesAeroAerolite.msstyles

After making the changes, save that file with a name- "aerolite.theme". Copy the newly saved file to the same location where we copied the aerolite.msstyles above i.e. Themes folder.
Now right click anywhere on Desktop and go to Personalization. Select the new theme and apply it.
Organize Tiles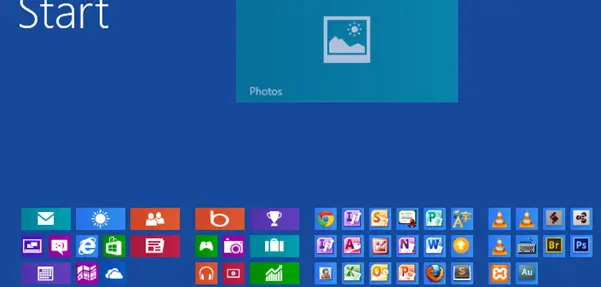 If you want to organize tiles at Start Screen with respect to its feature than just drag that tile either to upper part of screen or lower part of screen. On doing so, all the metro list will be zoomed in enabling you to drop the dragged tile to the desired location.
These are few tricks about which we have talked about and we're hoping that you loved them. If you know a similar Windows 8 hidden feature, do share it with us in comments.
This article has been written by Kuldeep Khatri. He loves to write about Gadgets, Technology News, Social media and likes doing Product Reviews. He recommends checking out Iflexion Web Solutions.