Windows 7 includes the concept of libraries. The concept of libraries is the same as My Documents in Windows XP and earlier versions of Windows. My Documents used to be a single folder located in a single location in the computer while libraries are different folders in different locations shown together. But the problem is that the management of libraries in Windows 7 is not straight forward. There are tools the make Windows 7 Library Management easier.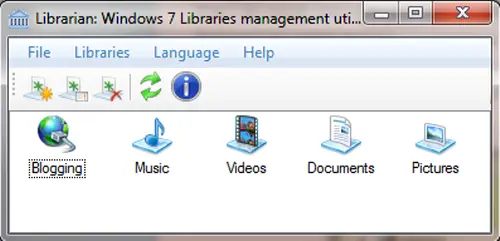 I want to talk about another simpler tool that can ease the process of Libraries management a lot easier i.e, Librarian.
Features of Librarian
Here are some of the features of Librarian:
Create a new library with any folder(s) inside
Change library's icon through standard Windows dialog
Rename library
Change content type of new or current library
Change "default save location" option
Change "Show in Navigation Pane" option
Show library as XML
Icon Set of Librarian
Librarian comes with a very good icon set that can be used for the libraries icons. It will give you an option to install the icon set or not during the installation of Librarian.
Usage
Using Librarian is very simple. After installation, double click the Librarian shortcut on the desktop and click on Add Library to add a new library, add the locations that you want to add to the library and you're done. If you want to edit a library, just double click it in Librarian and you'll get the same dialog box of adding the locations.
Download Librarian
Download Librarian from here.