Windows 8 comes with a number of useful and built-in metro apps like Reader, Music, Games, Calendar, Store, News and many more. The developers have made the perfect blend of essential apps and you can start using your system without installing any other app. Metro apps come in the form of a package and the package get installed automatically, if you create new user accounts. However, some people are more comfortable with the older version of apps and want to get rid of  the pre-installed metro apps. Today, we will learn to perform the following tasks:
How to uninstall an app from Metro User Interface.
How to uninstall Metro Apps.
How to install Metro Apps.
Uninstall a Desktop App from Metro User Interface
Besides metro apps , there are many other desktop apps which can be installed on Windows 8. Usually, all installed apps are kept on the start screen. In windows 8, you can uninstall an app directly from the Start Screen.  Follow these steps to uninstall non-metro apps from the Metro UI:
Right click on the app.
Select Uninstall.
And the app is removed. Note that if you try to remove a program using this technique, you will be taken to Control Panel (Add or Remove Programs).
 Uninstall Metro Apps from Metro interface
Uninstalling apps from the Metro UI is just a matter of few clicks. But, uninstalling a metro app is about executing some commands from the windows power shell. No, you don't need to be afraid. Just follow these steps and get all your metro apps uninstalled in few minutes.
Find Windows PowerShell from Windows 8 Search.
Right click it and select 'Run as Administrator' option from the bottom.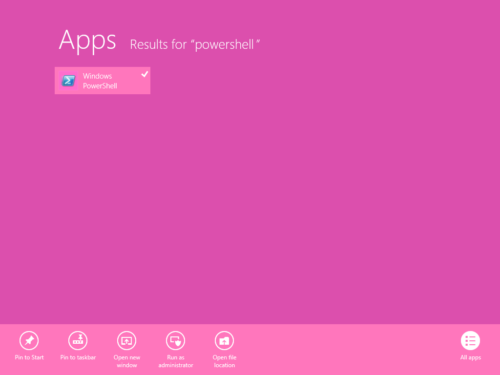 Now, type the following command to see the list of installed metro apps. This command will display app name, publisher, architecture, publisher id and few other details about every app in the package.
Get-AppxPackage -AllUsers
Type the remove command to uninstall all metro apps from the current account:
Get-AppxPackage | Remove-AppxPackage
It is possible that you are using a computer with multiple user accounts. One of the users like modern apps whereas the other don't, so we can try a little trick with the remove command. We can mention the 'Username' in the command prompt and AppxPackage will be removed from that particular account.
Get-AppxPackage -User | Remove-AppxPackage
Or simply, delete the AppxPackage for all users:
Get-AppxPackage -AllUsers| Remove-AppxPackage
Install Metro Apps
After the uninstall, you have a cleaner PC /Laptop with much more free disk space to be configured in your hands. You may want to install some selected metro apps for your system. Start installing apps of your choice by stepping into the Windows Store.
Browse through category of your choice and see the top free and paid app.
Click on any app, you may find interesting or useful and its details will be opened.
To install an app, click on the 'Install' button in the left panel.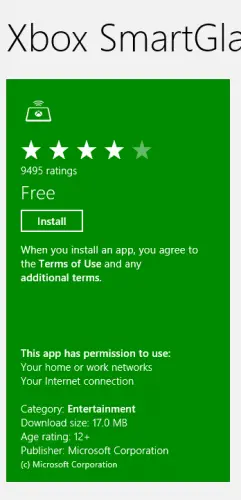 To check your currently installed apps, move your cursor to the top and right-click it. Select 'Your Apps' and it will display the list of apps and their status on your system.
Sorry… What did you say? You want to install all apps at once just like you deleted them? Okay, use the following command to add the metro apps at once.
Add-AppxPackage
Similarly, you can add the apps in any specific user account by typing:
Add-AppxPackage -User
Or add the AppxPackage for all users:
Add-AppxPackage -AllUsers
For more details about the package deployment , click here.
We hope that you enjoyed reading this guide and find this article helpful. Feedback and comments are always appreciated! Don't forget to contact us in case of any query or confusions.