TeamViewer 7 stable has finally been released. It was not long ago when TeamViewer 7 beta was released. So it was a quick work out from the development team.
To those who don't know about TeamViewer, it is a remote desktop and support solution for Windows, Linux and Mac OSX. You can connect to your computer or any other computer connected to the Internet and running TeamViewer without any problems.
There is no configuration required. It is as easy as download the software, run it, give your ID and password provided by TeamViewer to the remote user.
That's it. Now the user can connect to your computer remotely from anywhere in the world. There is no configuration required and it is up to you how much control you want to give to the remote user.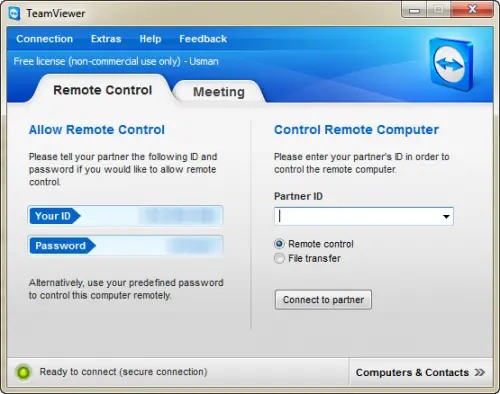 Now let us see what are the new and improved features included in the new stable version of TeamViewer 7.
When you start TeamViewer 7 for the first time, you will see an improved and enhanced main screen with some new options. There are two tabs at the top, Remote Control and Meeting (previously Presentation).
Both the tabs are self explanatory. First we look at the first tab, remote control. It is divided into two columns. If you want somebody else to connect to your computer, you will use the "Allow Remote Control" left column.
And if you want to connect to another computer which is using TeamViewer, then you will use the "Control Remote Computer" right column. The meeting tab is very similar to the remote control tab. You can either host a meeting or join a meeting.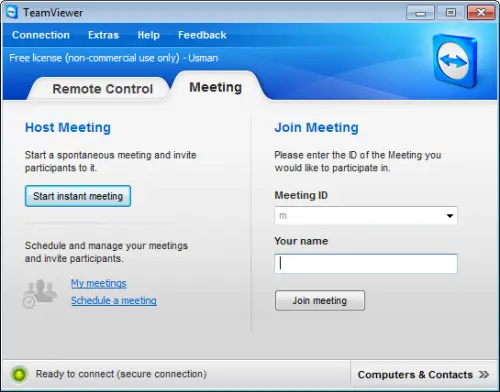 Using TeamViewer 7 will reveal a lot of new features including improved performance and smoother experience, improved multi-monitor support, screenshot and webcam features, recording of TeamViewer sessions.
With the meeting tool you can invite up to 25 participants in a meeting. You can also schedule meetings with improved file sharing support and recording of presentations.
TeamViewer 7 is still free for non-commercial use. There are two versions of TeamViewer. The full version allow both to connect to the remote computer and let others connect to your computer. The quick support version is especially been made for customers and it does not require any installation and administrative rights.
TeamViewer 7 is available for Windows, Linux and Mac OS. It can also be used on iPhone and Android. Download an appropriate version of TeamViewer 7 here. If you want to go through all the changes made in TeamViewer 7, you can read the changelog.
TeamViewer 7 direct offline installers:
[download id="11″]
[download id="12″]
[download id="13″]