Firefox is one of the most popular web browsers along with Google Chrome and Internet Explorer. The extra spice in Firefox is its ability to extend the browser functionality using add-on and plugins. Firefox can becomes a full productivity suite using these add-on. All add-on of Firefox can be accessed from here.
Installing an add-on is easy. Just select the add-on and click on the "Add to Firefox" button. You may need to restart Firefox in order to enable the installed add-on. We list down some of the productivity add-ons and extensions which will make your experience with Firefox more productive and enjoyable.
Better Links
Better links spices up the browsing experience by inserting relevant and informational links within the content while you are browsing. The inserted links are from authority sites like Wikipedia. Better links adds about 4 links on each page making sure that it does not intrude too much information and annoy you.
Get Better links
Grammarly Lite
Grammarly lite is an instant grammar check tool designed for the web. Grammarly scans your text, article, resumes,emails,blog posts and your comments at Facebook or any other social networking website and notifies you in case you make any grammatical mistake. Notice the encircled '1' indicating that Grammarly Lite has detected one error in the text.
Grammarly is not only an auto spell checker, it checks the text against more than 150 grammar rules. It helps you improve your writing skills by suggesting optimized synonyms and adaptive spell check. Grammarly can be used by editors, authors and professionals to proof read any document. Besides the most popular features of  editing and improving, it also checks the writing piece for plagiarism and warns you timely before you forward any copyrighted documents.
Get Grammarly
Clear Console
Clear console is an add-on for clearing up your browser history, cache, HTTPs Logins and cookies. Add Clear Console to your browser and you won't need to go to the traditional ways of deleting history. Just click on the Clear Console button that appears at the top of page and clear cookies, history, cache or restart the browser. You can remove history over a specific time range by going to Clear Console -> Options -> Select Time Range ->Clear Now.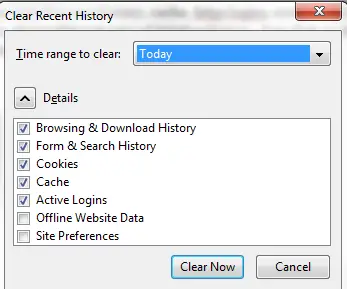 Buttonizer
A few days back, we have been looking for a way to minimize the space occupied by the toolbars in our browser. While searching for a technical solution, we came across an interesting add-on 'Buttonizer' that eases our task. Buttonizer turns a toolbar into a button that helps you save space on your browser window.
Note: Firefox needs to be restarted after its installation and you will notice Buttonizer icon next to address bars in the browser.
To turn a toolbar into a button, right click on the Buttonizer icon and a menu will appear containing the list of installed toolbars. Select the one that occupies more space and hide it from the browser. You can access this toolbar by moving your mouse on the buttonizer icon.However, you can only buttonize one toolbar at a time.
Evernote Clearly
Evernote Clearly  is a must have add-on for all those who get irritated by the flashy advertisements and the disturbing promotional stuff while surfing the internet. Evernote enhances the readability of webpages by removing all the stuff except the text. It is designed for the web pages that contains some large piece of text like blogs, articles or newspaper. If you apply it on any blog post, you will notice that it also hides the images included and even the readers' comments.
After installation you can see icon of Evernote Clearly at the right of address bar and search bar. Whenever you want to clean up any webpage just click this icon and the task will be done. Click it again to restore the original page. Evernote clearly offers several features like highlighting the text, make notes of it, change the font size of the document and saving all your notes and files at one place. Create an Evernote account to enjoy the add-on to its fullest.
Uninstall Any Add-on
In case you do not like any add on, you can disable or remove it by following few steps.
Go to Firefox -> Add-on or simply press  'Ctrl+shift+a' to open the Add-on Manager.
Select My Add-on and list of your installed add-ons is disabled.
Click remove or disable buttons provided next to the add-on name.
And that's it!
We would love to hear from you about the plugins and add-ons which are spicying up your Firefox experience and making you more productive. Share your thoughts in the comments.