Microsoft has released Skype for Desktop 6.5 for Windows users. The new version of Skype introduces free video messaging support. This will take Skype instant messages to the next level because of this video messenger.
Interestingly, Skype for Windows was the last of all the Skype apps to get the video messaging support. Skype for Mac, Android and iPhone have already been introduced with this feature earlier.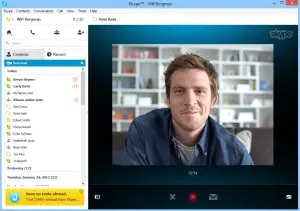 So how does this video messaging work and differ from video calls? Let's take a look. Video calls let the users chat with their family and friends using a web cam. This is live video chat and can't be sent offline like text messages.
Video messaging is like texting while offline. You can send a video message even if the other person is offline. You will only need a webcam to record your video message and the message will be played when the other person comes online.

The recipient will see an embedded video in their Skype chat window. There are a total of 25 free video messages available. After that, the user will need to pay for sending more video messages.
The new version of Skype 6.5 fixes two bugs related to calling making the app more stable while calling.
One thing to note here is that Adobe Flash is required in order to run the sent video message for the recipient. Flash Player is not a requirement for sending the video message though.
We are providing direct download links for all the installer for the available platforms. You can click on the appropriate link to download the correct edition of Skype.
Download Skype 6.5 for Windows Desktop
Download Skype 6.5 for Windows 8 App Store (Metro app)
Download Skype for Windows Phone