Those days are long gone when a computer user had to remember only a bunch of passwords for their daily work. This was because there were quite a limited number of services to work with. Fast forward today and everything has changed. Now the users have to rely on password management utilities to save all their user credentials. These utilities are dedicated to this very purpose of remembering the passwords for us.
I personally use KeePass which is a nice and secure utility to save all your user credential related data. People also use online password management utilities like Lastpass to sync all their user credentials across different devices. A lot of programs are also coming with built in password remembering capabilities.
Take an example of web browsers. All modern web browsers including Google Chrome, Firefox, Internet Explorer and Opera come with a password manager. Google Chrome and Firefox will also offer the user to sync their passwords and other browsing data across multiple platforms.
PasswdFinder is a small nifty utility which can reveal all the usernames and passwords saved in Windows applications. There is a large number of Windows programs supported by this utility. When you start the program for the first time, it will show the disclaimer that the utility will not send any passwords or local data to the Internet. This utility does not require any Internet connection to work correctly. So be assured that it is a legitimate utility developed to help you positively.
Unfortunately PasswdFinder is not portable. I wish it could go portable so that we can take it anywhere we want.
PasswdFinder comes with a clean and minimalist design and graphical user interface. There are not a lot of options available. There is a menu toolbar which features buttons like exporting the list of passwords to HTML, printing the password list, refreshing the list with the latest entries, find a specific username or password, Settings etc.
Below the menu toolbar, there is a list of username and passwords detected by the utility grouped app wise by default. You can see that the list does not give the usernames and password in one row. Instead, it places the username, password, server etc. in separate rows.
Right click any entry and you will get a context menu which will allow you to delete the entry or copy the information to the clipboard. You can also use the find function using the context menu option.
When you start PasswdFinder for the first time, it will automatically scan computer for supported software and retrieve their confidential information. To see the list of supported software, just click on the Settings button –> Filter by software titles. This will show you the complete list of supported apps. You can uncheck any app to remove its entries from the PasswdFinder list. This can be useful when you want to print the list of specific usernames and passwords.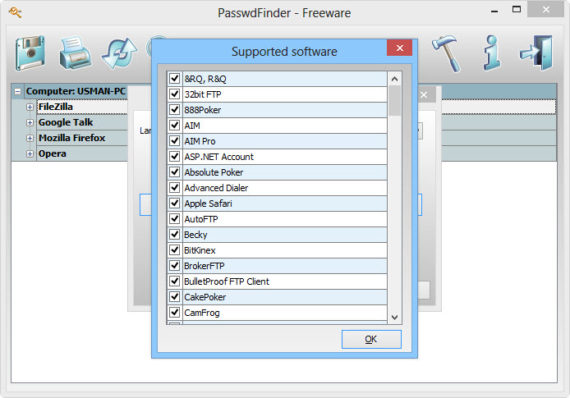 One drawback of PasswdFinder is that it does not support the latest versions of some software including Google Chrome. I am running Google Chrome 24 and PasswdFinder was not able to extract the credential information from the browser.
Overall, this utility is must have for network administrators and tech geeks. It would have been even great if there was a portable version available.