There are times when we are researching for something and come across several webpages that are related to each other. We want to compile our research such that the content comes into a sequential form like an e-book for all of our research.
In such scenarios, traditionally, either we bookmark the page or copy the entire content into a Word document or even use OneNote for this purpose. This method has its shortcomings. For example, if you 'Save All -> Copy' and 'Paste' into the Word file, it will copy the advertisements, text in the sidebars and footer etc which are irrelevant to the content. Another option is to copy paragraphs and images and paste them one by one which requires more effort and time.
We will look into some ways by which we can transform webpages into e-books. These includes some site specific methods too meaning that those methods will only be applicable to a particular site like Wikipedia.
Create an e-book from Wikipedia articles
Some websites are generous enough to include the 'Save A Copy' or 'Print as PDF' in the options. This helps the reader to save the content in the PDF format to their computer. Let's take example of the most visited website for research purposes, Wikipedia. You can download Wiki articles free of charge and in a proper readable format without putting any extra effort.
Go to the left  side panel
Print/Export -> Download as PDF

Wiki users feel more privileged when they can save multiple inter-related articles at one place and create an e book of their own.
Go to Left side panel -> Print/export -> Create a book
It will inform that you can create an e-book and export it in different formats. Click 'Start Book Creator'.
After enabling book creator, you will notice a Book creator bar above every article opened in Wikipedia. If you find your desired content, click 'Add this page to your book' and the page will be added.
Suggest pages is another useful option that suggests most relevant articles with your search topic. You may like to take a suggestion and add more information to your book.
E-book creator bar will keep updating the number of pages in your book as soon as you add one.
Select 'Show Book' to manage your book.
Give it a suitable title and subtitle.
You may like to create chapters or sort it alphabetically.
Download your book in PDF, e-Pub, OpenZIM or Open document format. Select Open Document format if you want to edit your e-book using Microsoft Word features. After editing it properly, you can save it in PDF, XPS, DOC etc.
You may want to create a new e-book. But, you can not do so without disabling the previous book creator else new pages will be added to the same old e-book.
Click 'Disable' in the book creator bar.
Again, select 'Create an e-book' and it will ask if you want to continue with your previous book or create a new one.
Click 'Cancel' and a new book has been created.
Using Scribd and Google Docs to create e-books:
Scribd or Google Docs users can also find a similar options depending on the type of content license (if it is redistributable ). Usually the documents uploaded in Scribd are already in the PDF  or e-PUB format. Whenever you open any document in Scribd, you will see a 'Download' tab above and in the sidebar.
Click on the download tab and select the format as PDF or TXT. You may now specify the file location to save the downloaded document.
Similarly, Google Users can also find a download option in the File menu. Sometimes, the shared document is very large in size and Google fails to scan the file for viruses. It will display a warning message in that case and provides option of 'Download Anyway'. Select download anyway and save your file.


Online tools to create e-books from webpages

There are many online tools available which can serve the same purpose. We will discuss some of them.
Zinepal
Zinepal lets you create an entire e-Book containing several web pages and publish them in PDF or e-Pub format.
Enter a single URL and Zinepal will retrieve all the stories on that page.
Select and add multiple stories to your e-Book.
Give it a proper name and introduction (make use of keywords intelligently).
Your e-Book requires some editing, formatting and personalization.
Customize your e-Book appropriately and add your logo or any other advertisement for promotional purposes.
Select Preview your e-Book before you click 'Finalize e-Book' because it does not allow editing after the book is published.
A free version is always compromised by accepting the watermark of the vendor. Same is the case here; you have to tolerate PREVIEW watermark in your e-Book which does not look good. However, you may get a Pro Version of Zinepal to enjoy all the features and publish it on Zinepal and Scribd.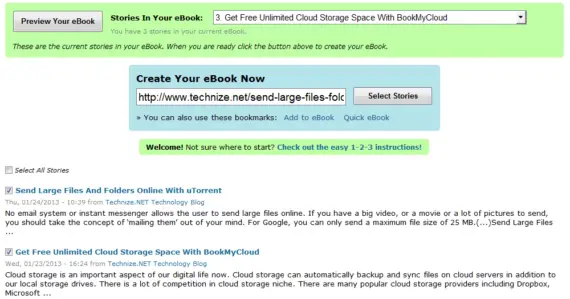 DotEPUB
DotEPUB is a cloud based online service which lets you create an e-book from any webpage. You can make use of the bookmarklet feature which will let you create the e-book of from any page instantly. Just go to the webpage and click on the bookmarklet. It will be turned into an e-book. You can use this service along with Evernote Clearly which will be discussed later in this article.
EverNote Clearly
All this discussion leads us to the easiest and most appropriate way of saving web pages and online content. This technique involves the use of the Evernote add-on for Firefox and Chrome. Evernote offers clipping tools that can help you make notes of online content and save them for later use. Evernote Clearly provides a distraction free reading environment as we discussed in our recent article. The basic purpose of Evernote Clearly is to remove advertisements and irrelevant content. Besides this, you can also print blog post or web page by pressing the CTRL+P (or click on the printer icon).
Select the name of a printer. We have chosen XPS Document Printer as it will print the document  in XPS format. Microsoft XPS Viewer is the program that reads XPS documents. Now you can forward this document to anyone without making any changes in it as it is already well-formatted. You may also install Cute PDF Writer for printing files and webpages in PDF format.
Evernote Web Clipper adds a pleasant online notebook flavor to your browsing experience. In a case, you are using someone else's PC or using a public computer , you will not save your documents on that system. So, why not create a free Evernote account and clip your favorite notes, news and stuff to your online notebook? You can either install the web tool separately or use it through Evernote Clearly. You will find the clipping option in the panel. Select a text or clip the entire page and you will notice a 'Tick' on the clipping icon meaning that the content is successfully clipped.
This is how Evernote saves clipped content and your notes. Of course, you can access and edit them anytime.
Microsoft OneNote 2013
You can also send the online content to your One Note notebooks using Evernote Clearly. Follow the same procedure , as described above, but select 'Send to Microsoft OneNote' in the printer name tab. It will paste the blog post into one section of your Work Notebook.
Now, you can either move or copy this section to any other notebook.
Right click on the Project tab -> Move or Copy.
Select the notebook and the section where you want to move it.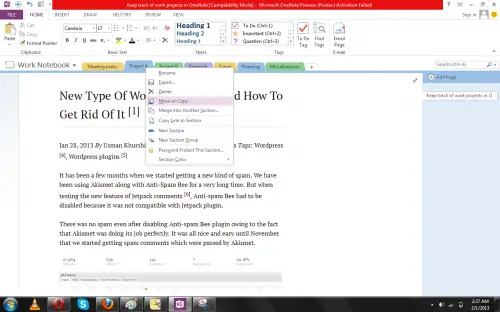 You can save the pasted content as PDF, DOC or XPS format also.
Go to File -> Export.
Select format and click 'Export'.
While working and researching on the Internet we often wish to note down several points.You can now easily take notes while surfing on the web or reading any research paper using a smarter option—Dock to Desktop.
Go to View -> Dock to desktop.
OneNote compressed window will be appeared at the right of your desktop.
Select the text or image you want to copy and paste it into the notebook appearing next to your browser window.
You may observe that the formatting is preserved and the web address is also pasted into notebook.
There are many add-ons and buttons available claiming that they will save the web page in PDF format. We have tried many of them but found these tricks most convenient. Which trick do you use?