There has been a surge in cloud storage apps in the recent times. Although Dropbox was not the first one to offer cloud storage with automatic synchronization capabilities but it was certainly the most popular one. But then came so many other online sync and backup apps from tech giants like Google having Google Drive, Microsoft furnishing their SkyDrive app and so on and so forth.
Almost all the services provide some cloud storage for free. The cloud storage varies from 2GB to unlimited storage. Dropbox offers 2GB free space to its users while Google Drive offer and Microsoft SkyDrive offer 5GB. Many people prefer to use free online storage to store their important documents and files.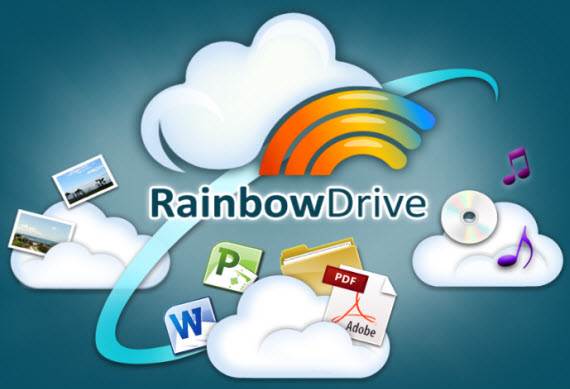 For this, they make use of multiple services to make sure that they have enough storage space available. The problem with this approach is that you have to manage your files for each online cloud app separately. This takes more system resources as each service has its own dedicated app for synchronizing data to the cloud.
If you are using multiple cloud storage services like me, another problem is with locating the desired file or document. It becomes difficult to find a particular file on the cloud.
RainbowDrive is a Windows 8 app which strives to solve this problem for us. You can sign into different cloud storage services using RainbowDrive and then browse data of all the services in one place. You can manage, add, edit and delete files from any service which you have connected through RainbowDrive.
RainbowDrive is available for Windows 8 Store, Apple App Store (iPad) and Google Play (Android). It supports integration of the following cloud storage services:
Dropbox
Google Drive
Microsoft SkyDrive
Box (Currently in Beta)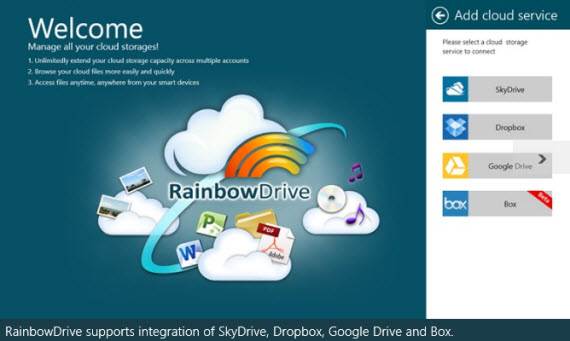 RainbowDrive even supports multiple accounts of the same service provider making it a lot easier to expand your overall storage. It will show the total storage of all the services you are signed in and the free space available in total.
Although the interface of RainbowDrive is quite intuitive, it needs to be easier to use in my opinion. Once you have signed into any of your cloud storage account, your data will be synchronized with RainbowDrive and will appear in the app.
Overall, I like the idea of integrating cloud storage provider accounts but it should also have been done using the Desktop interface of Windows as not too many people will be comfortable with Windows 8 store apps at the moment.
Download RainbowDrive for Windows 8, iPad and Android