Most of the people who are addicted to the older version of Windows Live Messenger (2009) do not want to upgrade to the latest version 2011 because the interface of WLM 2011 is completed changed. It also doesn't include many features like blocking contacts etc.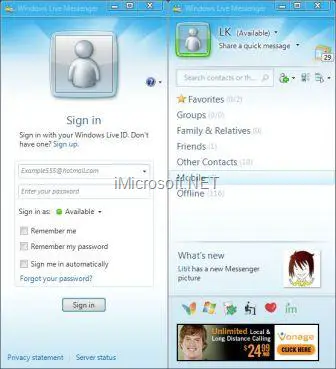 You can download Windows Live Messenger 2009 and Windows Live Messenger 2011. Since Microsoft is prompting to upgrade to the latest Windows Live Messenger 2011 through Windows Update, if you have automatic Windows updates enabled, the messenger will be upgraded automatically. If you want to prevent Windows Live Messenger from updating, you can follow any of the two methods given below:
1- Disable Windows Live Messenger from Windows Update
Windows Live Messenger can be easily disabled through Windows Update.
Go to Start Menu search and write Windows Update.
Select Windows Update from the search results and click on Check for updates.
In the updates, find Windows Live Essentials 2011, right click it and select Hide.
Now Windows Update will not prompt for upgrading Windows Live Messenger.
2- Change Compatibility Mode of WLM
You can change the compatibility mode of msnmsgr.exe to Windows XP or earlier in order to block it from upgrading. To change the compatibility mode, go to the following folder:
C:\\Program Files(x86)\\Windows Live\\Messenger
Right click msnmsgr.exe and go to Properties -> Compatibility
Select "Run this program in compatibility mode for: "
Select any previous version of Windows from the drop down menu.