We have heard about people recommending computers to others. What about recommendations from Microsoft? It would feel cool if we get a recommendation from Microsoft about which computer to buy and which computer is best for Windows 7 Operating System.
If you want a recommendation from Microsoft, you can visit The Collection where you can select a category for yourself and then select a computer that suits your needs. There are five categories in total namely Everyday, Mobile Companion, Professional, Entertainment and Gaming. Selecting a category makes it a lot easier for us to select a computer. You can also select the computer and buy it from there.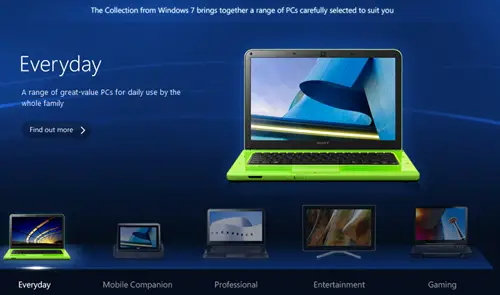 The Collection website has been created especially for individuals who get confused over which computer to buy. All the recommended computer in The Collection are compatible with Windows 7. Hopefully Microsoft will maintain an updated list of computer and categorize them properly so that individuals will be able to select and buy a computer easily. Visit The Collection.