Moo0 FileShredder is a small and easy to use utility to delete files permanently from the hard drive so that they can't be recovered anymore. We have already talked about the recovery software which can recover accidently deleted files from the hard drive.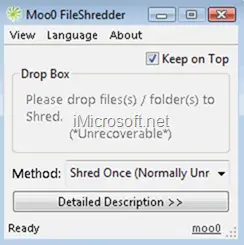 But if you have some sensitive and secret data which you want to erase permanently so that it can't be recovered, Moo0 FileShredder is for you. It is a free utility with drag and drop feature. You can simply drag and drop files to Moo0 FileShredder window to delete it permanently. There are four levels of deleting a file depending upon the sensitivity. With each growing level, the program overwrites data more and more so that not even a single bit of it is recoverable. The application works in 5 steps in order to delete the file completely. Here are the steps followed by Moo0 FileShredder:
Overwrite all data
Change file size to 0
Change file name
Change file attribute
Change file timestamp
If you're using Moo0 FileShredder in Windows Vista or Windows 7, you'll need to run it with administrative privileges in order for the drag and drop functionality to work properly.