Microsoft Security Essentials is a very good antivirus and anti-malware from Microsoft which has been performing well in most of the AV-Comparitives reports. It comes absolutely free of cost and can be installed in Windows Operating System. The only catch is that the Windows should be genuine. Otherwise if you are using a pirated version of Windows, this antivirus will not let you work anyway.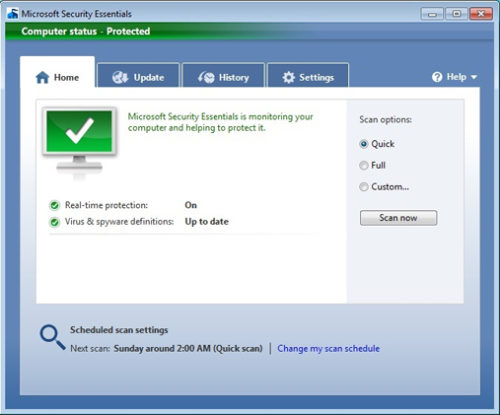 MSE or Microsoft Security Essentials provides real time protection against most of the Internet threats out there in the wild and protects the computer from major virus, spyware and malware threats. The new version of Security Essentials is out and can be downloaded freely from Microsoft. The latest version is 4.1.0522.0.
The best thing about Microsoft Security Essentials is that it is provided by the same company as the Operating System. They would know more about the Operating System than anyone else will. It is very easy to install and will automatically update itself silently without annoying the user. It will run in invisible mode and protect your PC without any interruptions.
Like any other security product, MSE should not be installed along with any other antivirus or security suite. This is because if two antivirus products are installed, they will not protect the system better. Instead, they will interfere with each other's operation and ultimately the system will become unresponsive.
Microsoft Security Essentials can be installed in Windows XP, Windows Vista and Windows 7. If you are using Windows 8, MSE comes pre-installed and will be integrated with Windows Defender.
Microsoft Security Essentials can be downloaded from Microsoft using this link. But if you want direct download links of MSE, you can select from the following links. We are providing direct download links for all the supported languages.
Update (22-Feb-2013): Now you can download the latest Microsoft Security Essentials 4.2 (direct download links).
If I have missed anything, please let me know through comments.