While there's a lot of buzz about Google+, Google TakeOut and other social products from Google, Microsoft has quietly made changes to their Windows Live sign in page. The changes are so minor that normally the person who doesn't use the sign in page a lot will not recognize the changes. But the people who are used to using the options removed, they are frustrated. Microsoft is getting a lot of criticism about these changes.
So what are these changes? If you go to Hotmail.com or any other Windows Live sign in page, you can recall that there used to be two checkboxes in the sign in form:
Remember me
Remember my password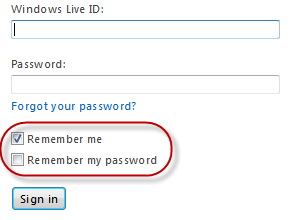 If you checked the Remember me checkbox, it would save your Windows Live ID and if you checked Remember my password, it would remember your password.
The bad news for the ones who used these options frequently is that these options have been removed and now there is only one checkbox available which says "Keep me signed in". Keep me signed in option will remember both the Windows Live ID as well as the password. There is no option to choose which one to choose now.
The user tiles have also been removed from the login page. The user tiles were icons of the users who recently had signed into their Windows Live accounts. Clicking on the tile would enter their details in the sign in form automatically.
According to Microsoft, there are three reasons why they have changes all this. It was causing customer confusion. The customer never understood which option does what. User tiles were just distracting smartphone users. User tiles were being used by about 2% of the users while for others, it was just an interruption. Lastly most of the users are consolidating their accounts into one Windows Live ID as Microsoft is integrating all its services with one Windows Live ID.
Although I don't use the sign in page of Windows Live a lot but I think it's a bad move from Microsoft. Microsoft has just removed what used to distinguish their sign in page with other competitors like Yahoo and Google. Now all the services seem to have the same sign in page with the same set of options, a more consistent approach but less helpful to the users.