Have you ever thought of making a business calendar using Microsoft Word 2013? Basically, Microsoft Word is a word-processing program that is used to create professional documents. However, Microsoft has improved Word over decades and the latest improvement equips it with a variety of built-in templates. These templates have taken Word 2013 to a new level. Now you can make flyer, invitation cards, business calendars, memos and a lot more using these templates. Let's make a business calendar with Word 2013.
Go to Start -> All Programs -> Microsoft Word 2013
File -> New
The New option consists of a variety of templates. Scroll down a little to see the 'Business Calendar' template.
Or type 'Calendar' in the search bar to visit the collection specific to calendars. You can filter the search results by different categories like weekly, monthly, annually, business, academic year or etc.
Select the one that best suits your need.
You will see that the formatting options of title, heading and sub-headings in the home tab have now been replaced with date, days, month, tagline, normal, year and headings.

Customizing the calendar
Add Logo
Click on the image and replace it with your logo image. You may need to add reflections, shadows or 3-D effects to your logo. You can also add various artistic effects to make it visually more appealing. Right click on the image and select Format Picture.
Add a Tagline
Place your cursor in the '2013'. You can replace it with a tagline, month, day, date, or heading style by selecting the one from Home Tab.
Highlight Months
Every month in the calendar is an independent table. You can intelligently use this characteristic to relate different months of a year. For example, use the table with green grid in the months of June, September and December which represent that your sales increases in these months. Similarly, use another color to represent the productivity months. By doing this, you will have a more understanding of your annual business plan and its execution.
Add Tasks
Since, Microsoft Word is a word processing program that enables creating professional documents easily so we should not expect it to behave like a project management tool. There is no concept of tasks in it, rather you can add tasks to any date by adding a 'New Comment' to it.
Move the cursor to the date.
Date will be highlighted. Right click on it to see the context menu.
Select 'New Comment'.
Make a comment.
See the Correspondent Dates to Comments
You can add a long list of tasks (or comments) to your calendar and all of them will be lined up in the Markup Area. Click on any comment and you will see that the comment will be displayed inside the box and that box will link you to the date.
Add Multiple Tasks To One Date
You can add multiple tasks to one date by following the same procedure of select date -> right-click -> new comment. However, it will become difficult for you to keep a track of all tasks associated to one date. So, a better option will be to add them as sub-tasks of one main task.
Select the task already added.
Right click -> New Comment.
Type the Task.
Mark Tasks As Done
It is important to mark tasks that have been completed on time. Usually, we put a tick on our calendars to show a task as completed. We can also mark completed tasks on our virtual calendar.
Select the task already added.
Right click -> Mark Comment As Done.
These comments will now appear in dull colors to distinguish them from the uncompleted tasks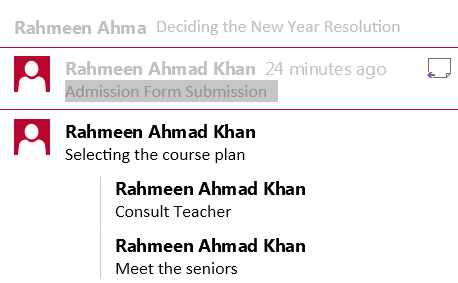 Mark Tasks As Important
Unfortunately, there is no feature in Word 2013 to mark any comment as important. But, in real world some tasks are more important and they need to be distinguished from the unimportant ones. So, we will highlight the tasks to serve this purpose.
Select the task already added.
Right click -> Formatting bar -> Highlight the text.
See the Details of Author
In a professional environment, a single document is often passed to different people. Your co-workers may schedule any task in the calendar. It seems difficult to keep track of who has made what changes in the document. Our difficulty is easily tackled by the Microsoft Word 2013 as it specifies the name of author along with the comment.
Right click on the author image in the comment.
Select 'See Contact Card' to view details.
Delete Tasks
Select the task already added.
Right click -> Delete Comment.
Type the Task.
Enter Company URL
Double click and type the web address of your company in the 'footer'.
Save your calendar and share it with your co-workers.
I hope this tutorial will make you more productive while using Microsoft Word 2013. Now you can omit the calendaring features of Microsoft Outlook if you don't use it for your emails. What are your thoughts about this tutorial?