I have previously reviewed HiddenDIR which is a utility to hide and password protect folders on shared computers running Windows. I've found another utility that can password protect folders in Windows and is very simple to use.
LocK-A-FoLdeR user interface is pretty simple and consists of a few options. You can lock or unlock a folder or you can change your master password. You can have only one master password which will be used to unlock all the folders. When you install LocK-A-FoLdeR, you'll be asked to set the master password.
After you configure the master password, you'll be taken to the main user interface which only consists of a few buttons in one column.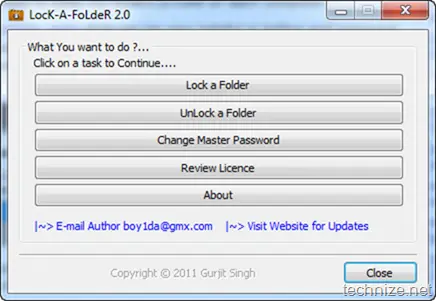 When you click on Lock a Folder button, you'll get three fields so that you can select three folders to lock at a time.
Clicking on Lock it button will lock the folders. The folders will be hidden by default and you'll need to select "Show hidden files and folders" in the Folder Options. But if the folder is locked, it will not open even if you unhide it and it becomes visible to you. You'll get the following error message when you try to open the password protected folder:
You'll need to open LocK-A-FoLdeR and then unlock the locked folder in order to view the contents of the folder again. Unlocking is very easy in LocK-A-FoLdeR. You only need to select the Unlock a folder button on the main screen. You'll automatically get the folder path that was locked previously. If the folder that you want is not listed, then you can use the manual option in order to unlock the folder of your choice.
Download LocK-A-FoLdeR