When it comes to digital design inspiration, Apple has always been the leader of the pack. Steve Job's aesthetic sense has always played a vital role in integrating beauty and inspiration inside digital design. Apple's most recent Operating System versions including Mac OSX and iOS have the same sense of beauty in visual design.
If you have ever used Apple's devices, you would have certainly loved the look and feel of iPhone and Mac OSX. Now you can visually transform your Windows Operating System into an iPhone by using the iOS 6 theme for Windows 8. This will be an ideal fit for those who love to have the same flexibility and functionality of Windows while having the visual styles of iOS.
iOS theme for Windows 8 can be installed using the skin packs installer. While this is pretty safe to install and uninstall, if anything goes wrong, you may have to reinstall the Operating System.
First of all, you will need to download the right version of iOS theme for Windows 8 according to your system configuration. You can find the download links here. Please note the Windows 7 is also supported by this theme pack.
After downloading, the installation process is very similar to all other Windows apps installation. You will need to agree to the terms and conditions and then continue installing the app. Please note that the installer comes with advertisement installations of toolbars etc. We recommend not to install anything other than the theme itself.
After installation, the computer will need to be restarted. When the computer starts again, you will be greeted with a completely transformed Windows 8. Your screen will look like a large iPad or iPhone with the status bar appearing at the top and the famous Mac OSX dock at the bottom of the screen.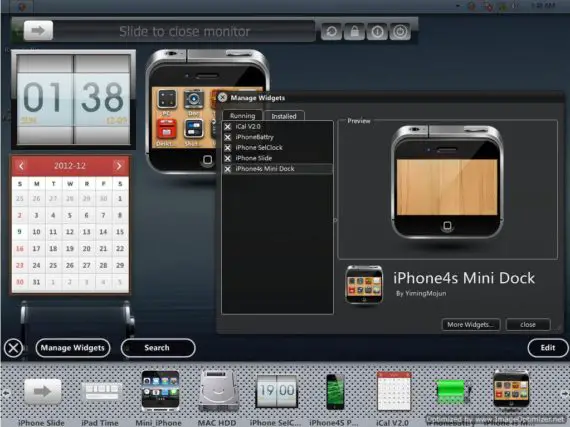 If you open any folder from the hard drive, you will notice that the icons of files and folders have also been changed and will be a combination of Windows and iOS icons. I was amazed by the number of icons created by the author as I can see icon changed for almost every folder I see.
The slider dock at the bottom of the screen comes in different styles and can be customized along with the dock items.
Overall, the iOS theme or transformation pack for Windows 8 worked perfectly for me. It all depends upon how you want your visual style to be. I prefer to have a "Windows" look for my primary Windows 8 computer as I'm using a Windows Phone device as my primary cell phone device. What will be your preference? Do you love the Apple look on your Windows PC?
Thinking the other way, if you want to have a Windows 8 look on your iPhone or any other Apple device, you can use a utility called "Metroon". It is not free though. You can pay a small amount to make your phone look like Windows 8 or Windows Phone 8.