By design, Windows slows down with the passage of time. However, by following some simple tips, you can increase your PC speed without using any third-party software. We will discuss some ways to increase PC speed using the built-in Windows tools.
Go to Control Panel -> System And Security -> System .
Note: Click on the system and security will open a new window and there you can find System. Do not confuse yourself by finding it in the sub-menu under its heading. On the left side panel, click on Performance Information and Tools.
Or Go to Start -> Search bar ->Performance Information and Tools.
This will give you an idea how fast is your PC hardware.
1- Clean Up Disk Space
Cleaning up the disk space is the fundamental tip for speeding up PC's performance. Lesser the data on disk, lesser is the time required for searching and accessing files.
Go to  Performance Information and Tools.
Click 'Open Disk Clean Up' in the left side panel and select the required disk drive.
You can also reach Disk Cleanup tool using the following path.
Go to Computer -> Select Disk -> Right click
Select Properties -> Disk Clean Up
It will clean up unnecessary files and then prompts for your permission if you want to remove other temporary, unused or deleted files that are no longer in use. You can select and delete the separately listed temporary files, recycle bin, system log files, temporary Internet files , offline web pages etc. to gain more disk space. Do not forget to remove the temporary files as they consume a lot of space.
2-Delete Internet History
Your browser keeps a record of visited websites and URLs so that it can offer  auto-completion when you type in the address bar. This feels very comfortable as it saves re-typing of the same URL and makes browsing efficient. But, Internet history also needs to be stored somewhere in your computer (cache). This follows that it should be deleted regularly so that it does not slow down our PC.
To delete your browser history, you can follow these steps:
Firefox: Go to Firefox-> History -> Clear Recent History ->Select Time Range to clear history
Opera: Go to Opera ->History -> Select a day and Delete
Chrome: Go to Chrome ( customize and control Google Chrome) -> History -> Clear Browsing Data
3- Stop Unnecessary Startup Programs
All of us want to turn on the power button and start using the PC right away. But different software load themselves at the startup which is a source of irritation at times. If you do not want any particular program to load,
Go to Start ->Search Bar -> msconfig
System Configuration -> Start Up -> un-check the programs you do not want to load at startup.
Click Apply and Ok.
Or you can go to the preferences of the particular program and adjust settings so that it does not start-up when Windows starts.
4- Scan And Remove Spyware
Spyware are undesired programs that can infect your computer by invading your privacy and displaying advertisements. They slow down your browser and computer  with their unwanted scripts running in the background. Although, there are many anti-spyware available but you can also use Windows Defender to scan and protect your computer from spyware.
Go to Start -> Search Bar -> Windows Defender
Scan -> Select one and scan your computer .
However, it is recommended that you scan your PC regularly.
Go to Tools -> Settings ->Options and set time for auto scan.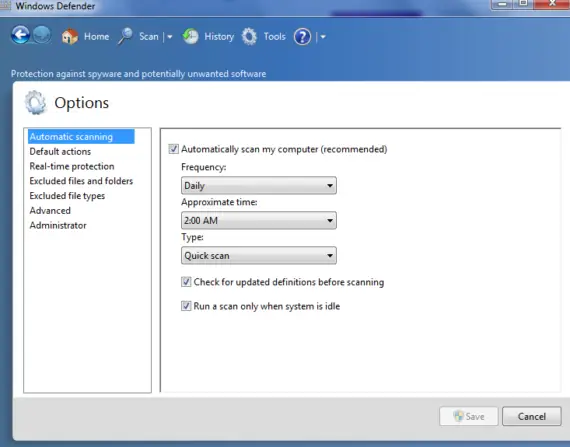 5- Defragment Your Hard Disk
Data is stored on the hard disk in the computer and when you make some changes to the file, these changes are saved in different locations on the hard disk. Over time, the file content will be scattered throughout the hard disk and it will become fragmented . This follows that your computer will slow down as it has to gather information from many locations to open a file. One cannot avoid  fragmentation of disk , however, we can keep up the efficiency by defragmenting the disk after regular time intervals. Disk Defragmenter is a tool that searches for the scattered content and reunites the fragmented files at contiguous memory locations so that the files can be accessed quickly. You can defragment your disks using Defrag.exe using command line but why don't you go for the easy visual interface?
Go to Performance and Information Tools ->Advanced Tools ->Open Disk Defragmenter. It is recommended to analyze your disks and find if they need defragmentation or not.
Select a drive -> Analyze Disk -> Defragmentation will be performed automatically if needed.
I hope these tips will lead to a much cleaner and faster computer. These tasks need to be run at regular intervals of time so that the PC remains at top performance.
Which tricks do you use to increase PC Speed? Share your tips with us in the comments.