If you are using a shared computer with different Windows accounts and you use Firefox as your browser, it is very difficult to protect your bookmarks. If you want to have private bookmarks which other users are not able to access, it is almost impossible to do so in Firefox without using any third party software.
There is an add-on for Firefox called Link Password which can be used for this purpose. Link Password lets you encrypt and password protect your bookmarks from others. You can password protect your private bookmarks one by one. Or otherwise, you can password protect all the links in one bookmark folder. Using Link Password is very easy. Just right click the bookmark you want to password protect and select encrypt this link. Firefox will ask you for a password and that's it. The title of the link will be randomly changed and the URL of the link will be changed to linkpassword:// format. If you want to decrypt the link, you can easily do so by right clicking on the link and selecting decrypt this link.
Now whenever you open the link, it will notify you that the link is password protected and you need to enter the respective password in order to open the bookmarked link.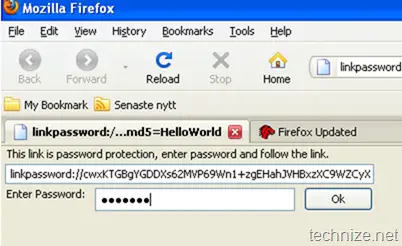 Download Link Password Add-on for Firefox