Windows Experience Index (WEI) is a new feature in Windows 7 that enables us to rate any system's hardware on which Windows 7 is installed. There are five hardware components that are rated through Windows Experience Index.
Processor
Memory (RAM)
Graphics
Gaming Graphics
Primary Hard Disk
These hardware components are rated on a scale of 1 to 7.9 where 7.9 is the best performance score. Each hardware component is rated separately and receives a sub-score. The final WEI score of the system is the lowest sub-score received by any hardware component. If you haven't rated your system, you can right click Computer and go to Properties. Under System, you'll see Windows Experience Index. See the screenshot below:
I have taken the screenshot from my Dell laptop. The lowest subs-core that it received was 5.0. Hence it was the final rating of the system. See the sub-scores in the below screenshot:

Microsoft Windows stores all these scores in separate files which can be edited to change the score artificially. The files are located in the following folder:
C:\Windows\Performance\WinSAT\DataStore
You can manually edit the files and change your score. But a better alternative is to use automated tools that will change the WEI score automatically for you. Windows 7 Rating changer is a small software that can easily change the Windows Experience Index score to whatever value you like. It's very simple to use. The five hardware components are given with their original ratings. You can alter the ratings from there and click on the Save button. That's all you have to do. Now go to Computer Properties and the WEI base score will be automatically updated to the value you have specified.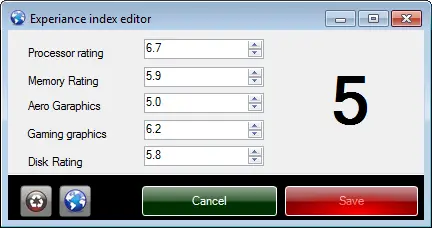 Download Experience Index Editor to change your WEI score 🙂