If you're using a shared computer, you must be familiar with the problem of hiding your personal and private folders. It is almost impossible to hide folders on shared computers using the built in Windows functions. There are many tools out there which can password protect or hide folders on shared computers but I was looking for a portable software which could do the task for me as I'm lurking around from one PC to another for work. I need to keep my folders private on each computer.
HiddenDIR is an open source, free and portable utility that can be very helpful in hiding and password protecting folders on any Windows computer. Using HiddenDIR is very easy and simple. You only need to download HiddenDIR from the location below and run the executable. The home screen is very simple and self explanatory.
There are four buttons on the top of the screen, Hide, Unhide, Password and How to. To hide a folder, just click on the Hide button and select the folder that you want to hide. Once the folder is selected, it is hidden from everyone else.
To unhide the hidden folder, just select the folder from the list on HiddenDIR window and click on Unhide button.
You can also password protect the program so that no one else can open and unhide the folders you have hidden.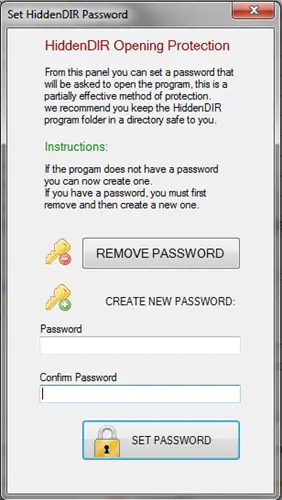 HiddenDIR requires .NET Framework 2.0+ in order to work correctly. The supported Operating Systems include Windows 2000, XP, Vista and Windows 7.
Although  it was working on my Windows XP machine, I couldn't make it to work on my Windows 7 64-bit machine. If anyone else has similar problems, please let me know.
You may also like 14 advanced tools to encrypt to decrypt files and folders in Windows.