The stable version of Google Chrome 13 has finally been released today. The major feature that is included in the new version is the Instant Pages feature. Instant Pages feature enables pre-rendering of the top results from Google search. Since the click through rate (CTR) of the top results in Google search are pretty high, you are most likely to click on the results. And to save time, Chrome 13 starts pre-rendering the links even before you click on the result. This will open the webpage almost instantly when clicked.
Firefox has similar feature included for all the sites but Chrome 13 goes one step further and renders more items including the images and style sheets. This feature comes with the expense of Internet bandwidth usage. If you are worried about the bandwidth usage of Google Chrome, you can disable the Instant Pages feature by going to chrome://settings/advanced and unchecking "Predict network actions to improve page load performance"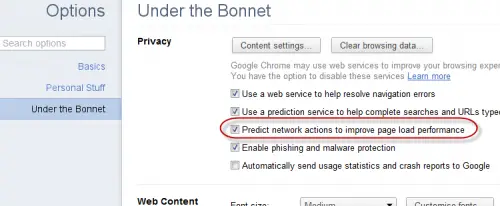 Another feature added to Google Chrome 13 is print previews and print to PDF functionality. When you click on the Print button, you will be taken to the print preview and then you can print whatever you want to. The built-in PDF viewer needs to be enabled in order to print to PDF. To enable the built-in PDF viewer, go to chrome://plugins/ and enable the plugin named Chrome PDF Viewer.
If you have already installed Google Chrome, you can get the latest stable version by going to About Google Chrome and updating to the latest version. If you want to download Google Chrome 13 manually, you can go to the following URL:
Download Google Chrome 13 Stable [Full offline installer]