Hotmail team has introduced a new feature in Hotmail which is related to Windows 7. The pinned sites feature was introduced in Windows 7 in which one website could be pinned to Windows 7 taskbar so that it could be accessed without Opening Internet Explorer and then going to the site.
The new Hotmail features lets you keep track of email right from the taskbar. You only have to pin Hotmail to the taskbar and it will show you the number of unread email and a lot of other options related to email like Inbox, Calendar, Contacts and composing emails. All this can be accessed right from the taskbar.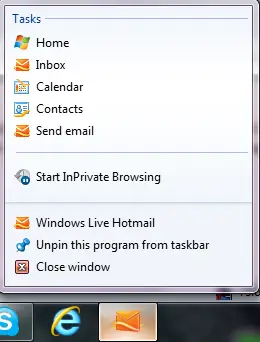 To pin Hotmail to the taskbar, follow the instructions below:
Open Internet Explorer and go to Hotmail.com
Sign in and go to your Hotmail Inbox
Now drag the Hotmail tab in IE to the taskbar
A new pinned item will appear on the taskbar with Hotmail logo on it
Now you can open your Inbox just by clicking on the taskbar item which you just created. To get more options like composing email etc, right click the taskbar item and you'll get different options. This feature is very similar to Windows Phone 7 email tiles which give email count on the email tile.
If you're running Windows 7 and are using older version of Internet Explorer, you may download Internet Explorer 9 so that you may be able to used pinned sites and pin Hotmail to the taskbar.