Like WinRAR, Free RAR Extract Frog is another exceptional software to extract your RAR files reliably. No matter how large your files are, Free RAR Extract Frog extracts these files easily.
Why RAR?
RAR is actually a format for compressed files developed by Eugene Roshal. RAR format ensures you with file recovery option unlike .7z or .zip formats. RAR files compression rate is also exceptional.
This is the reason why you should go for .rar files and so for RAR extractors.
Unlike other RAR extracting software, Free RAR Extract Frog is pretty fast and extracts your files in a few seconds. The software has a clean interface and does not take much space. The standard version of this software is about 4 Megabytes in size.
The software is exclusively made for extracting RAR files. It comes with a RARzilla engine to ensure faster extraction of RAR files.
You can install and use it in 3 or 4 simple steps. Another benefit of this exceptional software is that you can extract RAR files in 3 different ways.
1 – Drag your file to the software screen, choose the directory and Free RAR Extract Frog will do the rest.
2 – Click on Unrar button and proceed accordingly.
3 – Send click on the RAR file to be extracted and select "Extract" from the options.
The software is customizable and you can have any kind of image inserted as background image. Just drag the image you want to keep as background and its interface will automatically change. One thing that should be noted is that you have to choose a small image for its interface. You can choose any image for Free RAR Extract Frog.
Another great feature of this software is that it also extracts password protected files. Just enter a default password or a list of passwords and the software will extract that password protected files.
Installing Free RAR Extract Frog
Installing Free RAR extract frog is as simple as installing any other basic software. Just open the setup file from where it is located and you will see the following screen: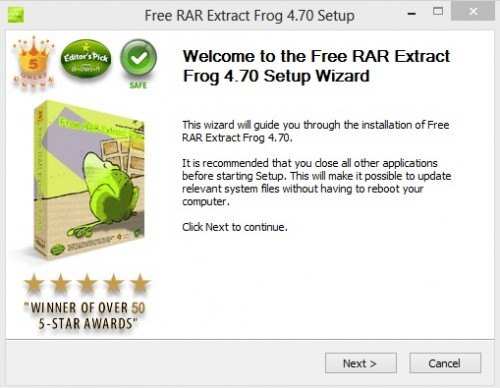 Now click on next and following will appear: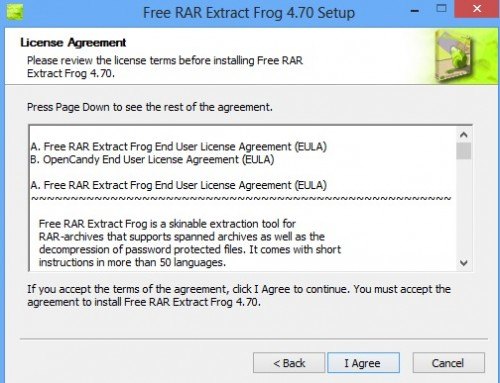 Read the terms and agreements (which one does not :p) and click directly on "I agree".

Choose the destination where you want to install the software and click on Install. After installation, you'll see the following screen:


Click "Finish" and there you go.
So, anyone can install this basic software as it requires no more than 4 steps.
Extracting Files With Free RAR Extract Frog
As mentioned before, the software is pretty easy to use and the whole process takes not more than two minutes. The software has the capability to extract multiple files at a time. You can also extract password protected files through this software. The whole process is very easy, however if you didn't get it, then here is a tutorial to extract files through this great software.
1. Run this software and click on "Unrar" button present in the program menu. You can see the button at bottom right corner of the interface.

2. A pop-up will appear. Choose the RAR file that you are going to extract. You can even choose many files at a time.

3. Now, the software will ask you to choose a folder to which you want to extract your files. The software lets you choose the directory or if you want to extract it to the same folder in which the RAR file is, then you can choose that from the option.

4. After you select the directory, the software will start its work and will extract your file within seconds. After the extraction is complete, the folder to which the file is extracted will open.
If you need a basic software to extract your files within no time, then get Free RAR Extract frog. The software is quite easy to use and require no expertise to run.
Download Free RAR Extract Frog