Mind Mapping is a simple fun way to visualize thoughts and ideas. Mind Mapping tools are used to organize thoughts, understand and remember them. Mind Mapping tools help to communicate and present your ideas effectively.
These mind mapping tools make use of diagrams that represent topics, tasks and important terms. Previously, people used pen and paper to illustrate their thoughts. Now computers can be used to visualize thoughts. Here are some free mind mapping tools for organizing your ideas visually.
Bubbl.us
Bubbl us is a very simple mind mapping tool that offers the very basic and limited features. You can add multiple topics and associate several nodes to them. Draw their siblings or connect them with each other using an arrow. You can change the size of text in the box and the color also.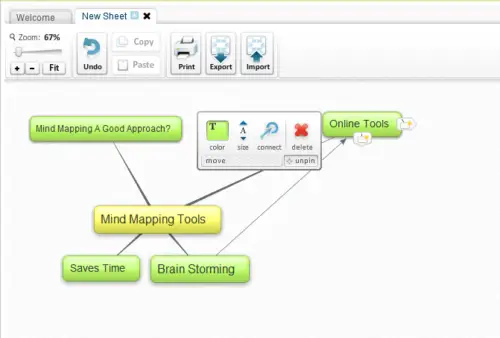 Place your cursor at any node and you will see customization options. Drag the nodes to move them and arrange in order. You may import, export or print your mind maps. Bubble.us also offers free account so that you may save your mind maps online for later use.
MindMeister
MindMeister is another simple and easy to use online tool with a user-friendly interface. Type the main idea in the center and press the insert key to add nodes in it. Customize the text in your mind map by using different colors and fonts. You can also add icons and images in your mind map to add some spice and interest to it.
Additional features have been provided to help you upload your notes, tasks and files or create new notes and tasks. Add links and web addresses to any particular topic or node in the mind map using the Links tab in the Properties Panel. However, you need to sign up for a free account at MindMeister to create fully functional mind maps, save and export them.
Open Mind
Open Mind is a free software with constantly getting new improvements. Open mind creates completely customizable mind maps with easy to use controls. The basic entity is a balloon, a rounded edge rectangle, which is displayed to get started. Right click on the bubble and select 'Create New Bubble' to add new bubbles.
Text can be formatted with a variety of options and the way bubbles appear can be changed too. Images can be inserted from the clipboards, files or directly from any web URL. You may also insert YouTube video in the bubbles. These mind maps can be saved and exported as image files so they can be shared and printed easily.
Xmind
XMind is a professional tool for brainstorming your ideas and map them instantly. It is a powerful tool that helps develop fully featured mind maps easily. The free version of XMind consists of the Mind Toolbox and the share on web facility. It has some premium versions which offer creative tool box and import/export in pdf/word/ppt format.
MindApp
MindApp offers mind mapping applications as a web app and as desktop tool. MindApp web tool provides you a way to start creating mind map instantly. MindApp is a comparatively simple tool which comes with a few sample mind maps. You can create a free acount to save all your mind maps at one place and access them online.
To create a new mind map
Go to Map -> New
It will display some hints to use the MindApp and a text box
Type the 'Title' of your Mind Map
Right Click on the text box and select 'Create Left/Right' to add the descendants
Layout lets you specify the shape of connection and the center lines. You can also select where to keep the main heading i.e. centre, top, bottom and left
Some basic formatting options along with text alignment options have been provided
When done, save your mind map as PNG image
These were the most commonly used tools to create mind maps. Do you use any of these tools? If not, start using them now and give us some feedback about these tools.