BitDefender is one of the top security software companies which provide their antivirus and other security software. The software provided by BitDefender are highly recommended and used among the masses. Many people use and recommend BitDefender product.
One of the most used products of BitDefender is BitDefender Internet Security. BitDefender Internet Security 2011 was the top performing software against malware infections (according to av-test.org).
So what are the notable features of BitDefender Internet Security 2012? Let's take an overview of those features.
Antivirus to protect against malware
Antivirus is the core part of any internet security suite. Viruses can be very dangerous and sometimes destructive to the computers. So it is an absolute necessity to have a real-time antivirus running in the computer all the time. BitDefender Antivirus module proves to be the very best at identifying, blocking and removing viruses, spyware and other malware.
Firewall to defend against hacking attempts
While Windows includes a built-in firewall, it is a very basic one. If you want your computer to be perfectly safe, you need to have an advanced firewall defence sheild. And BitDefender Firewall modules takes care of most of network traffic security needs.
Anti-spam to keep your inbox clean
BitDefender Internet Security 2012 includes an anti-spam module which can be very useful if you use an email client like Microsoft Outlook or Mozilla Thunderbird. It will integrate into the email client and remove any email that appears to be spam.
Other notable features
BitDefender Internet Security 2012 also scans and filters the links on your Facebook and Twitter accounts and lets you know if they are harmful to you or not.
Rescue mode lets you start your computer in an isolated environment and scan for and remove any malware from the computer.
How to get BitDefender Internet Security 2012 one year license for free? Here's how..
BitDefender is running a promotion for Germany, Austria and Switzerland. The users in these countries are able to get a one year license key of BitDefender Internet Security 2012.
The good news is that you can also get this free license even if you are located outside these countries by following the steps below.
1- Go to the BitDefender promo page.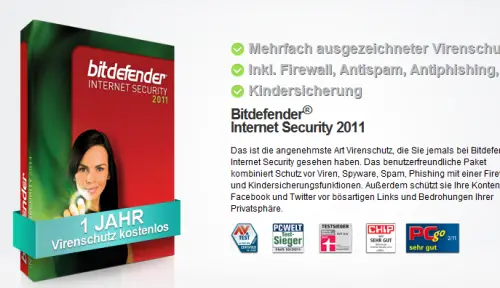 2- Enter your email address and the captcha code.

3- You will get the one year license key in your email. Please note that although the key is originally for BitDefender Internet Security 2011 but also works on 2012.
4- Download BitDefender Internet Security 2012 and enter the license details which you received in your email.
5- If you are located outside Germany, Austria and Switzerland, you can use CyberGhost VPN software which provides an IP address from Germany. So you can easily get the license 🙂
If you have any problems following these steps, please let me know through comments. I will try my best to solve the problems.