This error message pertains to different situations like if you have Windows installed that is not validated properly and try to update Windows using Microsoft Windows Update, it will give you the error with the code 0x80070005. The wording is different in Windows XP, Windows Vista and Windows 7 but the error is the same that comes with Windows update.
The error code 0x80070005 may also occur if you have "You don't have permission to …" type of messages. This is likely because you have done something wrong with the Windows settings most probably through group policy editor.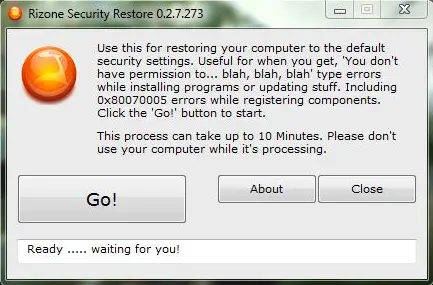 Security Restore is a portable tool developed by Rizone which can get rid of all these errors. This is a very simple tool which only has a Go button but comes in very handy if you have to restore your Windows security settings. The best thing about it is that it is portable meaning that if you are network administrator then this tool is a must have for your USB Pen Drive.
Security Restore can be downloaded from here.