USBDeview is a free utility from Nirsoft which gives very detailed information about the USB devices installed or connected to the computer. The utility gives complete information about the USB devices including device name, type, serial no., last plugged/unplugged time, vendor ID, product ID, Hub/Port,  driver attached to that USB device and most importantly the power used by the USB device.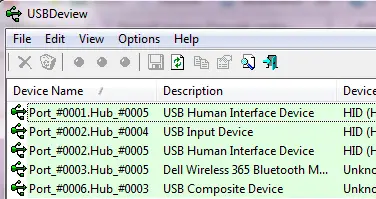 USBDeview also lets you perform different functions with the USB devices such as enabling, disabling and uninstalling the devices. You can also troubleshoot the USB errors because a USB port can only provide a maximum of 500mA. You can see if a USB port is maxing out its power and you have multiple devices attached to that port, you may lighten the load on that USB port.
USBDeview is a portable utility and can be run from the USB drive. It needs administrative previliges in order to run in Windows.
Download USBDeview for x64 systems