Effective File Search for Windows is a better alternative to Windows Search which helps you find your desired files instantly. The problem with built-in Windows file search feature is that takes a lot of time to complete. Although Microsoft has done a lot of work in enhancing the search feature in Windows 8, the earlier versions of Windows lack the robustness, effectiveness and relevance which other software can offer.
Another drawback of Windows Search is that it needs the indexing utility to be running all the time for effective searching. The indexing utility takes a lot of resources when it's running.
The benefit of Effective File Search is that it does not only search for files on your computer, it also searches for files on any external drive like network, CD/DVD, USB drives etc.
Effective File Search allows you to enter search terms as well as extend your search by adding filters. These filters include keywords, file size, date and many other options. When your search is complete, the program gives a list of relevant files. There is a dedicated Date and size tab which allows adding your filters. Just choose from the given options and Effective File Search will do the rest.
You can rename your files that are presented in the list. You can even copy or delete those files. You can save all your search parameters and results in a file. This means all your searches could be saved and you don't have to repeat the process for a single search again.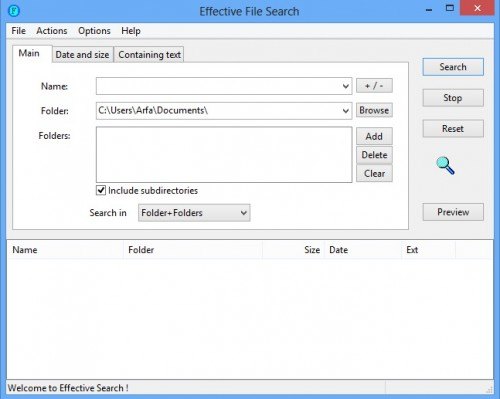 The software has been created in a way that everyone can use it. The interface is very simple and user-friendly. You don't need any specific ability to use the software. The software saves you time and is very easy to handle with just a few simple options.
1. Open the software and type your search term. In my search I am entering Genesis, you can search whatever you need.
2. After clicking, the program will start its process and will give you correct search results.
3. So, the program has found my file. You can remove extra results or copy your own result. If you want to save the parameters, click on file and choose save parameters.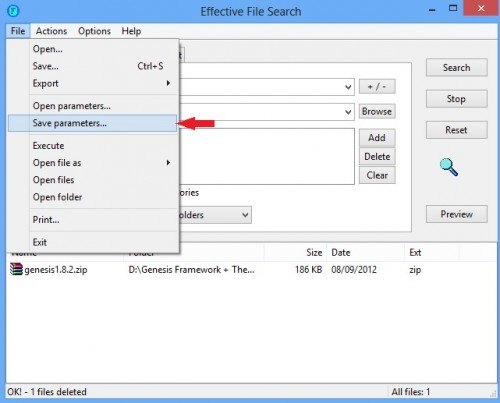 4. Save your parameter with whatever name you want and save it from where you can get access to it easily.
Saving parameters mean saving your search settings. The program also offers filtering options by which you can refine your search.
Playing with more features of Effective File Search will help you in understanding the software properly. Place the icon on your desktop so you can use it readily and search your results with in no time.
 Download Effective File Search
If you are using Windows 8, you may go through an advanced guide to Windows 8 Search.