Microsoft had released Silverlight 5 beta a few months back and finally Silverlight 5 stable has been released and is available for download. For those who don't know what Silverlight is, Silverlight is a tool to create interactive web and mobile applications.
Microsoft Silverlight is a direct competitor to Adobe Flash and Adobe Air. While Silverlight is not as popular as Flash, it is always a good idea to download and install all the tools that help us in viewing and interacting with the content produced in these technologies.
If you have already installed Silverlight, you can confirm which version you are running by going to Start Menu search and typing "silverlight"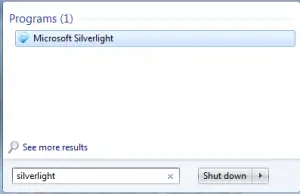 This will open Microsoft Silverlight configuration tool. The About tab will show you which version of Silverlight is installed on your PC.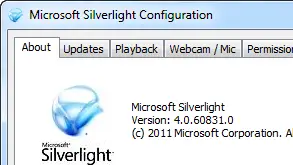 The latest version should be Silverlight 5.0.61118.0. You can download the latest version i.e, Silverlight 5 at the end of this article. Running the installer is very easy. It requires you to close all the browsers in order to install Silverlight properly. Just as a re-cap, here are some of the new features of Silverlight 5 listed on Microsoft Silverlight blog:
Hardware Decode of H.264 media which provides a significant performance improvement with decoding of unprotected content using the GPU
Postscript Vector Printing to improve output quality and file size
An improved graphics stack with 3D support that uses the XNA API on the Windows platform to gain low-level access to the GPU for drawing vertex shaders and low-level 3D primitives.
It is strongly recommended that you download and install the latest version of Microsoft Silverlight 5 to get full out of the Silverlight application experience. Most Microsoft related sites use Silverlight so if you use Microsoft technologies, it is a must have for you. The latest version of Silverlight 5 can be download from the below mentioned links:
Download Microsoft Silverlight 5 web installer
Download Microsoft Silverlight 5 offline installer [Direct download link] (6.6MB)