AVG Antivirus 2011 has just been updated to version 10.0.1321. AVG has been a very popular choice for people because of its free edition of Antivirus. It provides reasonable security as compared to the paid security programs. The latest version of AVG Antivirus 2011 offers faster scanning engine as compared to the previous version, some new security features that we'll talk about later and it offers better usability by organizing the main window better.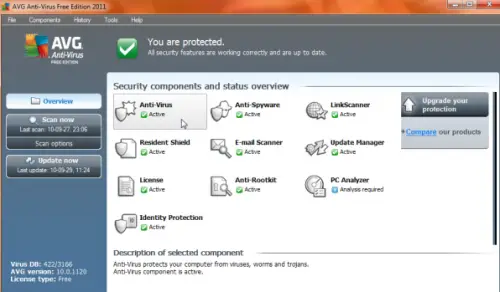 AVG Antivirus 2011 is a lot easier and quicker to install now. The development team has done a reasonably good job by reducing the user input screens during installation which makes it a lot easier and quick to install the antivirus. It takes about 5 minutes to complete the whole installation process.
AVG Antivirus 2011 Free Edition now offers smart scanning feature which enables the scanning engine mark certain files as safe and only scan them once. The safe files will only be re-scanned if changes to the files are detected. This makes scanning process very fast. The safe files are identified through AVG's behavioral detection network which is a community driven network. While installation, AVG will ask you if you want to opt out of this network. Opting in or out of this network will not affect the performance of AVG Antivirus negatively.
AVG Link Scanner can be installed optionally with AVG Antivirus. AVG Link Scanner now scans the links on Facebook, MySpace, Twitter and other social networks. This makes it very safe to use the social networks. The Link Scanner will put a red X mark in front of any dangerous links so that you may avoid opening the harmful links.
AVG Antivirus 2011 Free Edition also offers a desktop gadget for Windows Vista and Windows 7 which makes it very easy to operate the antivirus. You can start the scanning and updating of virus signatures right from your desktop.
These are the features of AVG Antivirus Free Edition. The paid edition includes Chat link scanning to protect a user from links sent from chatting clients like Windows Live Messenger, Google Talk etc and 24/7 telephone support in case a user runs into any problem. AVG Internet Security includes Firewall and Anti-spam features.
Download AVG Antivirus Free Edition
Buy AVG Antivirus from Amazon [$19.70]
Buy AVG Internet Security Suite from Amazon [$44.51]