Adobe Reader DC 2019 has been released with some new features to  enhance your reading experience. Adobe Acrobat Reader is the main tool for opening PDF's documents and still used by various users . It allows you to open any type of PDF content whether the are forms or multimedia contents. In order to take reading experience to a new level, Adobe Document Cloud services has been provided which allows you to manage your documents anywhere.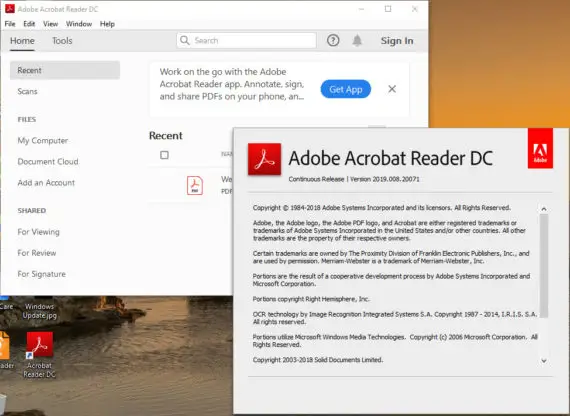 New Features
Some of the new features of Adobe Reader DC 2019 are as follows:
Unified sharing and viewing experience across web, mobiles and desktop using Adobe Cloud services
Allows commenting on PDF files
Fill and Sign PDF forms
Access PDF documents containing audio and video content
Access google drive files
User friendly  and multilingual interfaces
Platform Support
Adobe Acrobat Reader DC 2019  is supported on
Windows Server 2008 R2 (64-bit), Windows Server 2012 (64-bit), Windows Server 2012 R2 (64-bit), or Windows Server 2016 (64-bit)
Windows 7 (32-bit/64-bit)
Windows 8,8.1 (32-bit/64-bit)
windows 10 (32-bit/64-bit)
Mac OS
Some FAQ's Regarding Adobe Acrobat Reader
Can I create PDF files with Acrobat Reader DC?
Yes, you can create PDF files but that feature is available in Adobe Acrobat Pro DC  not in Adobe Acrobat DC.
Can I edit a PDF files using Acrobat Reader?
No you cannot edit files using free software. For that you have to buy Acrobat Reader
Can I export PDF files as editable Office documents with Acrobat Reader DC?
Using Adobe Export PDF or Adobe PDF Pack,  you can convert files to Microsoft Word, Excel or power point
What is Protected Mode?
Sandboxing technology has been used in order to protect your sensitive information to be accessed by malicious malware or from installing some virus on your computer.
How can I help control access to sensitive information?
Access Privileges can only be set by Adobe Acrobat not by Adobe Reader. With this feature you can define who can create, edit ,copy documents. Thus in this way you can save sensitive information to be accessed by irrelevant people. Authors who can access can have passwords or certificates ID. This ensures the confidentiality of documents.
Do I need Acrobat Pro or Acrobat Standard to use free Acrobat Reader DC?
Adobe Acrobat Reader is a free standalone prodcut that can be use to open,view, annotate, sign and print documents. Acrobat Pro or Acrobat Standard are paid softwares that contain some additional features too.
Can I sign documents and forms electronically with Acrobat Reader DC?
The new, built in Fill & Sign tool feature allows you to draw or sign  your signature or use an image.  Web browser can also be used for filling and signing the documents.
What is the Acrobat Reader DC MUI version?
It is multilingual user interface for readers. Local users can select the language of their choice in the available language. It can set in organization by group policy.
Downloads
Download Adobe Reader DC 2019.008.20071 for Windows
Download Adobe Reader DC 2019.008.20071 for Mac
Download Adobe Reader DC 2019.008.20074 Update for Windows
Download Adobe Reader DC 2019.008.20074 Update for Windows