Microsoft has released another tool related to security this time. Recently I wrote about Microsoft Fixit tool for automatically fixing slow performance of computer. Microsoft Fixit tools are small tools which perform a specific function and fix a specific problem. This enables lots of people to fix their problems automatically.
Microsoft Fixit Windows Security Tool
The latest security Fixit tool released by Microsoft will diagnose and fix Windows security problems automatically. This Fixit tool will run a series of security checks to check if your Windows Operating System is secure or not. The following areas are tested:
Checks Windows security features and enables them if needed
Phishing or Smartscreen filters
User Account Control (UAC)
Data Execution Prevention (DEP)
Windows Firewall
Antivirus protection status and updates
How To Use Microsoft Fixit Windows Security Tool
As mentioned earlier, using Microsoft Fixit tools is very simple as they are specifically made for people who don't know much about computers. Just download the tool from the below location and run it.
It will ask you to accept the Microsoft License agreement. Click on the Accept button.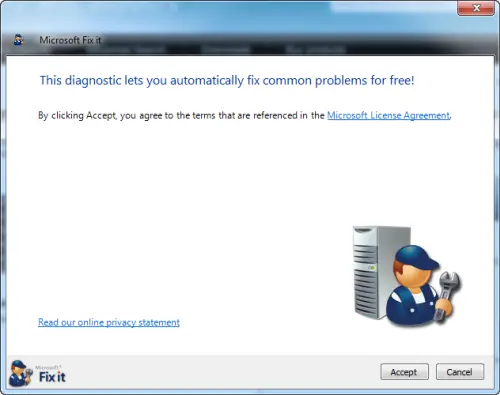 It will automatically start downloading the Fixit engine from the Internet.
After the downloading is done, you will be presented with two options:
Detect problems and apply the fixes for me (Recommended).
If you select this option, the fixit tool will automatically scan and fix any problems it finds. You will not be bothered during the process.
Detect problems and let me select the fixes to apply
If you are an advanced user, you can select this option in which the fixit tool will scan for problems and then give a list of the problems which you can select and troubleshoot yourself.
Download Microsoft Fixit Security Tool
Microsoft Fixit tool to diagnose and fix the security of Windows can be downloaded from the following location: