A virtual machine can be understood as  software implementation of  the Operating System over your existing computer system (consisting of hardware and software). This means that you can make a virtual machine and install the latest version of Windows 8 on your PC running on Windows 7. These are known as the 'Guest Operating Systems' or 'Guest Programs'. These guest software are unaware that they are running on any virtual machine and they operate in the same way as they would on a physical machine.
Defining Virtualization terms
Virtualization
Virtualization is a technique of creating an imaginary version of something. In our case, virtualization means creating a virtual running computer inside the physical computer.
Types of virtualization
Software virtualization
Network virtualization
Server virtualization
Storage virtualization
Virtual Machine
Virtual machine is the software implementation of the Operating System which runs inside another Operating System. For example, we can run Windows XP inside Windows 7.
Host Operating System
Host Operating System is the main OS installed on the physical computer.
Guest Operating System
Guest Operating System is the virtual OS which runs in a Virtual machine installed on a host Operating System.
Why is creating a virtual machine useful?

Here are some of the benefits of using a virtual machine instead of installing an Operating System on a physical computer.
It saves dual booting time. You can run multiple Operating Systems simultaneously.
It provides system independence. The virtual machine acts as a portable Operating System. You can always take the virtual machine anywhere with you and run it without actually installing the Operating System again and again.

Technology writers and geeks  install and try different software on the daily basis. Some of these software may not be reliable enough and they may corrupt the computer system. You can run them on the virtual machine so that they may not cause any harm to your physical system.
You can do rigorous testing of your newly developed application or program on the virtual machine and roll back the machine when done.
It is easier to move virtual machines between the physical machines. All you need to do is to move the virtual disk/image file and some configuration files.
Software to create virtual machines
The following software can be used to create virtual machines. The list contains free as well as commercial software.
VirtualBox (This is what we love the most)
VMWare Workstation (Another respected virtualization solution from VMWare.
QEMU – a generic and open source machine emulator and virtualizer. Supports Windows, Linux and Mac OS.
Virtual PC – a solution by Microsoft which is mostly compatible with Windows as guests. It has some limitations for running other Operating Systems as guests.
VMLite VBoot – allows the user to boot a physical computer from a virtual hard drive.
Microsoft Hyper-V – the latest virtualization solution from Microsoft.
BitBox – specifically created for an isolated browsing experience. A virtual environment created just for secure and comfortable browsing.
Installing VirtualBox
VirtualBox is a powerful x86 and AMD64/Intel64 virtualization product developed by the Sun Microsystems. It is high performing , feature rich product which is freely available under GNU General Public License. The term 'Virtualization' sounds advanced and you may think that it will be very technical to set up a machine like this. But, you will be glad to know that installing virtual machines is easy and you have to go through a sequence of  'Next' buttons. You may customize the set up features, but going with the default settings is a recommended choice. You may get a warning that your internet connection will be disconnected during installation, so make sure that you are not performing any important task online or downloading any content. It will ask for your permission before installing device drivers or software, permit it.
After successful installation of the virtual box, you will see the following window displaying that the installation is complete.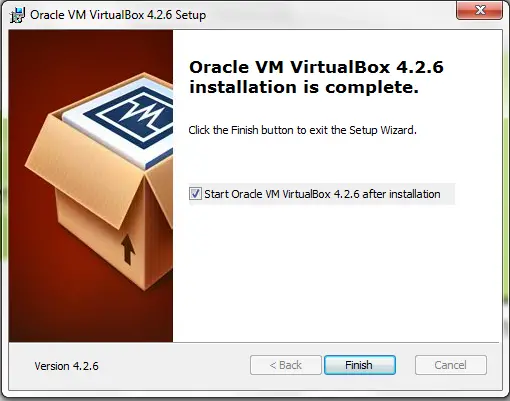 Create and Configure Your Virtual Machine
Go to Start -> Oracle VM Virtual Box set up and a window will be opened greeting you to the virtual box.
Click 'New' to set up a new virtual machine.
Give it a proper name and select the platform type i.e.,  Microsoft Windows, Linux, Macintosh or Solaris.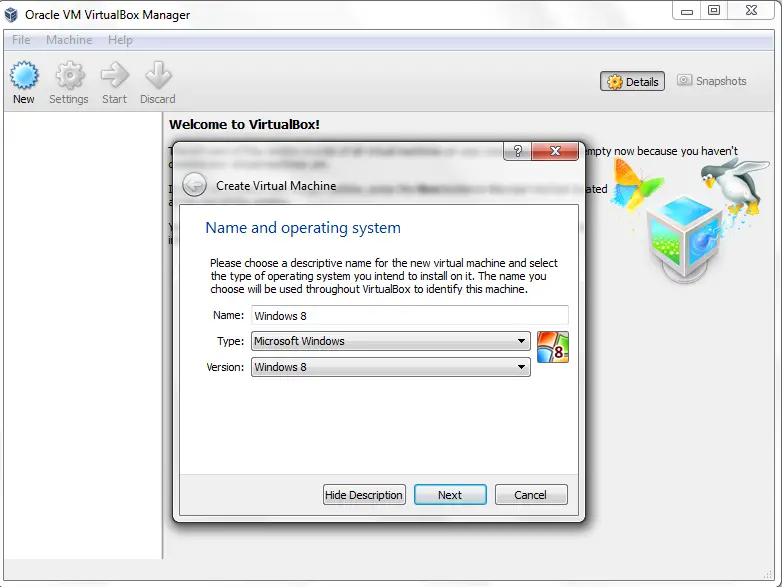 Allocate Memory to Virtual Machine
Next comes the memory allocation to your virtual machine. Move the slider bar to increase or reduce the memory size. The recommended memory size is 1024 MB, but if you plan to run light weight software on your machine then you may reduce it to 512 MB.
Create a Virtual Disk Image
It will then ask you if you want to create a new virtual hard drive or use any existing virtual hard drive file. Since, you are installing the machine for the first time and any virtual hard drive file does not exist in your system :
Select 'Create a Virtual Hard Drive Now'
Select an appropriate location for your virtual hard drive and label it with a reasonable name. This will help you locate your virtual hard drive, when you want to move a virtual machine from one system to another.
Choose Storage Type
Now you need to choose between dynamically expanding or fixed storage. Fixed is storage is efficient but dynamic storage is more flexible. Dynamic storage allocates little space at first and expands itself eventually if required by the operating system. So, the choice may vary with user requirements.
Assuming everything goes well, your virtual machine is now created. You can see the details of your machine in the Virtual Box Manager.  Explore the 'Settings' tab and you will notice that you can change the configuration settings of your machine (including memory)  in a very easy manner.
Empower your machine with the Operating System
Select the machine name "Windows 8" (in our case) and click 'Start' to start your virtual machine.
Select the disk drive that contains the operating system, you wish to install.
Rest of the procedure is same as the one you carry out while installing OS on to your physical hard disk drive.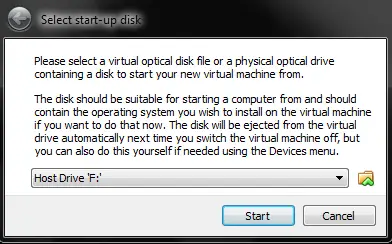 We will be sharing more tips and tricks about using virtual machines efficiently However, till then you may like to experience Virtual Machine Servicing Tool.
Making VirtualBox portable
The best bit about VirtualBox is that it can be made portable to run the Operating System from a USB Flash drive. Portable VirtualBox is a software which lets you run any virtualized Operating System from any location without actually installing VirtualBox. Please note that there are quite a few drivers which need to be installed when running a virtual Operating System through VirtualBox. If you are using Portable VirtualBox and do not have those drivers installed, you will need to provide administrative permissions to Portable VirtualBox in order to run properly. It will still run without installing those drivers but with admin rights.
I hope all this stuff has been useful for you and I'd like to thank you for reading. If you like the article, please leave a helpful comment and share it with your friends and social circles.