The Ribbon interface was introduced in Office 2007 but the new Office 2013 takes the Ribbon interface to the next level. Microsoft has introduced features like creating custom tab in Office 2013 in addition to the standard tabs which we get when we open any Office app.
In this article, we will create a custom Tab in Office 2013. A tab consists of 'Groups' and 'Commands'. A command is a standalone function that is used to perform any task like spell and grammar check, thesaurus or word count etc.
Related commands make a group. For example, spell checker, thesaurus and word count make group named 'Proofing'. Proofing, language, tracking, comments, changes, compare and protect groups combine together to make a 'Review Tab' .
So we can conclude that different commands make a Group and different groups make a 'Tab'. For quickly going through all the process visually, you can go through this video:
httpv://www.youtube.com/watch?v=GbC08PfOon4
Add a Custom Tab to Ribbon Bar
Right click on the Ribbon and Select Customize Ribbon.
Or Go to File -> Options -> Customize Ribbon.
Select 'New Tab' under 'Customize the Ribbon' pane.
You will see a custom tab will be added with the name 'New Tab' (Custom).
Select the newly created tab and click on 'Rename' to give your tab a proper name.
Now, you can add groups and commands to your Custom Tab.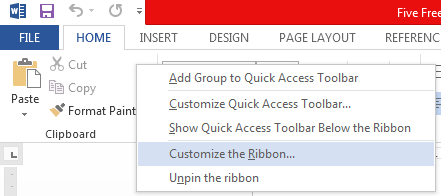 Adding Groups to Custom Tab
You can add groups to your custom tab, by:
Go to File -> Options -> Customize Ribbon.
In Customize the Ribbon pane, find your Custom Tab and select 'New Group'.
It will create a new group in the tab.
Select Rename to label your groups and associate a symbol with them.
You can add a group from any other Tab to your Custom Tab.
Hold the 'Group', drag and drop into the Custom Tab.
Adding Commands to the Custom Groups
Now it is time to add commands to the custom groups. I will recommend you to select 'All Commands' from the drop down list of 'Choose commands from' so that you can browse through all the available commands. You may be surprised to see the long list of commands that you have never used before. To add a command to any group:
Select the group.
Select the command and click 'Add'.
Similarly, you can remove any command by:
Select the command and click 'Remove'.
You may now check that a Custom Tab has been added with your specified groups and commands.

Backup Your Custom Tabs in Office 2013
An interesting feature about ribbon customizations is that you can export your customizations as a file. You may import this file and take with you anywhere, to apply on different systems you are using. To backup your customizations:
Go to Ribbon customization -> Import/Export .
Save your file with appropriate name.
You may also import a customization file using the Import options. You will be prompted to select 'Yes', if you want to replace the exisiting customizations with the new file.
Remove the Customizations
When we mess up with any gadget's settings and get stuck somewhere, we tend to 'Restore' it to the factory settings. Similarly, if you want to remove all the customizations at once, you can do it by a simple reset.
In the bottom of the Ribbon Customization window, you will find options related to customization.
Select Reset -> Reset all customizations.
All the customizations will be removed!

That's it! It is really simple to create a custom tab and add your needed functions to it within seconds. I have planned to create a tab with the frequently used format, insert picture, print and review options in my tab. What are your plans for the custom tab?