If you have ever used command line in Windows, you must have come across the check disk command. We have already discussed about third party alternatives to chkdsk command in Windows. I have been getting a lot of queries from users who are not satisfied from any alternative and want to continue with chkdsk command. Most of the queries have been about how to use Chkdsk the right way. In this article, we will discuss about Chkdsk and its usage.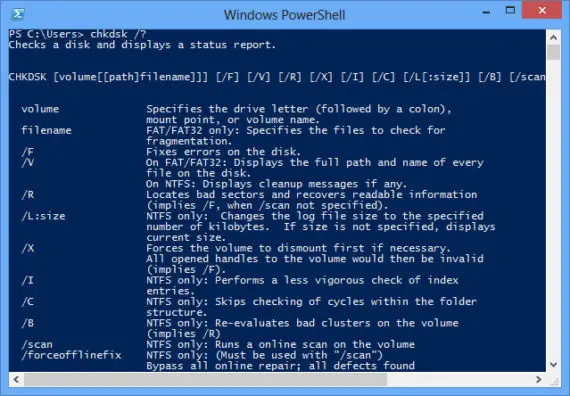 What is Chkdsk?
Chkdsk or Check Disk is a command line tool for checking file integrity and fix logical file system errors in Windows. The alternative for chkdsk in Linux is fsck.
Difference between Scandisk and chkdsk
If you have used older Operating Systems like Windows 98, there used to be a command called scandisk which was replaced by chkdsk in subsequent versions of Windows. Chkdsk can also check the physical surface of the hard drive and try to fix physical errors and bad sectors. Chkdsk also tries to recover corrupted data from the hard drive.
Using Chkdsk the right way
Chkdsk can be used in different scenarios. You can run the disk check if you think the file system is getting corrupted while updating (reading and writing to the hard drive) your system. Chkdsk can also be run in Windows recovery console. You can also run chkdsk on system restart to make sure that the files are not locked by the Operating System while the disk check is running.
Chkdsk switches and parameters
If you want to check out all the switches and parameters used with Chkdsk, the easiest way is to run the following command  in command prompt.
chkdsk /?
Using Check disk is easy. Here is the syntax of running chkdsk command:
chkdsk [volume]: /switch /switch …
Example:
chkdsk C: /p /r
Here are some of the important  switches:
 /f fixes errors on the volume
/p checks the volume at startup even if the volume is not flagged as dirty
/r locates bad sectors and recovers readable information from corrupted data
Running Chkdsk from recovery console
Running Chkdsk from recovery console is different from the standard version. There is a slight difference in switches used in recovery console. /f switch  can't be used in the recovery console. If you want to fix errors on the volume in recovery console, you can use /p switch which will work like /f switch in standard mode.
Reducing time to run Chkdsk
If you want to run Check disk in quick mode so that it checks the important aspects of the filesystem and skips other check, you will have to use a specific switch for this purpose. There are two switches which will reduce the time required to run complete scan of chkdsk.
/i switch forces chkdsk to perform a less vigorous check of index entries
/c switch skips the checking of cycles within the folder structure
Reading this article will enable you to run chkdsk command more productively in Windows. If you want to learn more about the working of chkdsk command, here are some resources for further reading.
And a video from Youtube about using Chkdsk the right way:
httpv://www.youtube.com/watch?v=Es0VivQ_xQI
Using /i and /c switches Microsoft article
Chkdsk documentation from Microsoft