Adf.ly is a URL shortening service with a little tweak. While other shortening services will redirect to the original page, adf.ly takes the user to an interstitial ad page where the user has to click on the Skip Ad button in order to proceed to the original link. Normally a user has to wait for 5 seconds until the Skip Ad button appears.
If you visit forums and blogs regularly, you must have encountered adf.ly links. The site owners are able to monetize their links using this service.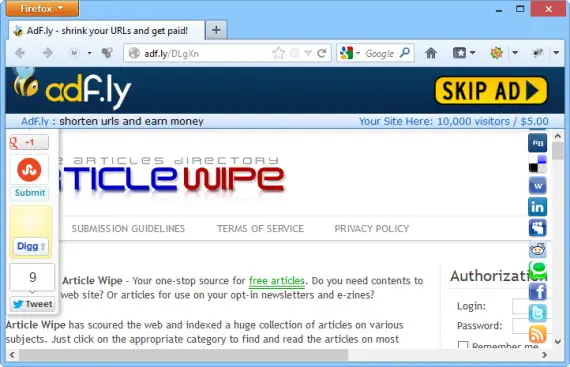 There are a lot of similar services while adf.ly is becoming more popular these days. Other similar services include ad.cx, adfly, adcraft, adfocus, adfoc.us, linkbucks, linkbabes, qqc.co, seriousdeals, seriousfiles, tinylinks.co, ubucks, linkbee, urlcash, redir.su etc.
This type of service is really annoying for the user because the user has to wait for their final destination to open. For example, if I have to download a file, I will definitely like to have a direct download link to the file instead of passing it through services like adf.ly.
There are some ways by which we can bypass adf.ly link pages.
Adsfight for Chrome and Firefox
If you are using Google Chrome or Firefox as your primary browser, the good news is that there is an extension called Adsfight which helps to automatically skip adf.ly ad pages.  Since Adsfight is a userscript, it needs Greasemonkey to be installed in order to run properly.
Install Greasemonkey for Firefox
If you are using Google Chrome, you can install Adsfight directly without installing Greasemonkey scripts.
When you are done with the installation of Adsfight, there is no additional configuration required. This script will automatically bypass many paid link redirectors including adf.ly and all of the above mentioned services.
Adf.ly Redir
If you only want to get rid of adf.ly redirections, then adf.ly redir script is for you. Adf.ly Redir is also a userscript and runs with Greasemonkey or Scriptish already installed in the browser. The scripts supports a wide range of browsers including Google Chrome, Firefox, Opera and Safari.
Adf.ly Skipper
If you are looking for a dedicated Firefox extension which does the work of skipping adf.ly ads automatically without installing Greasemonkey or Scriptish, Adf.ly Skipper is for you. This Firefox add-on works on with adf.ly links and will skip the ads page taking the user directly to the destination URL.
Adf.ly Away
If you are looking for a dedicated Google Chrome extension for bypassing the adf.ly ads, look no further than Adf.ly Away. The benefit of this extension in addition to bypassing is that it actually caches the results so that if you have to visit the same URL again, it will not bother to go to adf.ly first and then redirect. It will rather go directly to the destination link.
Download Adf.ly Away
Bypass Adf.ly without installing anything
If you do not want to install any extension or add-on in your browser and still want to skip the ads, you will need to make use of online services. There are two services where you can insert the adf.ly URL and extract the original URL. You can use any of the services mentioned below.
Browser trick
There is a browser trick which you can use to bypass the waiting time for Adf.ly ads. Just create a browser bookmark with the following information:
javascript:showSkip();
Now whenever you encounter an Adf.ly ad, just click on this bookmark. It will automatically bypass the countdown. You will still need to click the Skip Ad button in order to proceed further.
I hope this has been useful for everyone. If you know of any other method to bypass Adf.ly ads or similar services, please share with us in the comments below. Also share your experiences with the tools and services that I have mentioned in this article.