Cloud storage is an important aspect of our digital life now. Cloud storage can automatically backup and sync files on cloud servers in addition to our local storage drives. There is a lot of competition in cloud storage niche. There are many popular cloud storage providers including Dropbox, Microsoft Cloud Sync, Google Drive, SugarSync etc.
The only problem with these services is that they are quite expensive when it comes to storing huge amounts of data. Previously we have written about a free Dropbox alternative with unlimited storage. Unfortunately, in Jaunary 2013, their free unlimited storage account has become a paid option. Now you have to pay $10/month for unlimited option.
We have come up with another cloud storage solution with unlimited storage.
A fresh cloud service provider known as "BookMyCloud" is featuring Unlimited bandwidth and data storage in the cloud with distinct modulated features which include multiple repositories for various projects or departments, unlimited protected shared folders with passwords, unlimited virtual folders, openly downloadable document-links with expiry, capability to edit and view files online and custom domain support and free sub-domains to access online cloud storage.
Using Book My Cloud
Using BookMyCloud is simpler than using any other cloud storage.
1. First, go to BookMyCloud website and click on the "Get it free" button.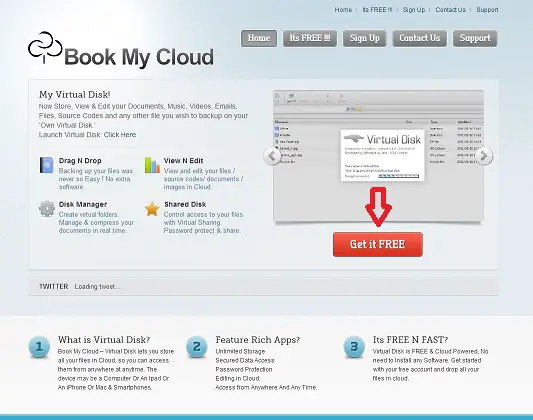 2. Now create a virtual root (sign up) by entering required information in the form.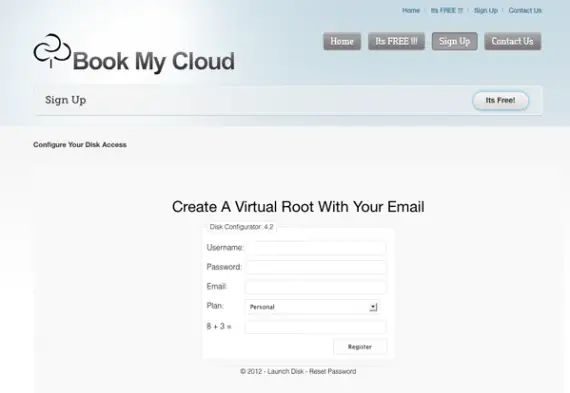 3. Once your virtual account is opened, you will have access to your virtual drive. Now you can upload files and add new documents.
4. After uploading your files to Book My Cloud, you can access these files securely from anywhere.
The virtual disk comes with drag and drop support. So you will be able drag and drop function to upload files to the cloud.
Some other features of BookMyCLoud service are:
When a person is using these kinds of virtual services then they need to have best data storage in best price. Book My Cloud users can have unlimited cloud-based storage with costless support which is thus the best part of this service.
A person while using these online cloud systems also need good bandwidth. Book My Cloud provides unlimited bandwidth to the users.
Book My cloud comes with good security features. The users can password protect separate files or directories or have the same master password to unlock all uploaded data. You can always use these password protection features while sharing your files with friends and colleagues.
Book My Cloud comes with an online text editor which helps the users edit files and documents right from the cloud. There is no need to download the document first, edit it and then upload it again to have the latest copy.
Book My Cloud systems come with programmed backups so you don't have to worry about the backup of your data separately.
Book My Cloud plans and pricing
BookMyCloud system has three basic plans which are:
1-      Personal plan:
It has waived set up fee, unlimited custom folders and shared disks, cloud editing, multimedia cloud, storage and bandwidth.
2-      Business Plan:
It has all those feature that are in personal plan plus it also includes repository, sub-domains and mobile access.
3-      Business Pro Plan:
It contains all features of the business plan plus it has custom domains.
Every plan in BookMyCloud contains:
1-      Periodic Service Upgrades.
2-      Managed Cloud Apps.
3-      Periodic Backup Service.
4-      Book My Cloud Support.
While Dropbox still leads the pack with their flexible API support, BookMyCloud can be a good service if you are looking for storage only solution with lots and lots of storage capacity.
Right now all the plans for BookMyCloud are free. You can choose any plan to go forward but they may become paid in the future like Bitcasa. BookMyCloud is a new player in the cloud storage niche and looks promising. What are your thoughts about this service? Which cloud storage service is your favorite at this time?