Internet Explorer 10 is Microsoft's latest Internet Browser but it is only available for Windows 8 at the moment. Microsoft has released a preview version of IE 10 for Windows 7. It seems that the final version of IE10 for Windows 7 will be released soon because Microsoft has released IE10 automatic updates blocker for Windows 7.
This is especially useful for organizations which do not want to upgrade the current browser version whether it be IE9 or IE8. Now it has become very easy to block the automatic installation of Internet Explorer 10 through Windows Updates. This blocker toolkit works even if you have IE10 Preview installed.
When Internet Explorer 10 final is released for Windows 7, users will get it as an automatic update through Windows Update feature. If you do not block it, it will install automatically. I think most of the users will not block the installation of IE10 because it is certainly faster and more useful than the previous versions of Internet Explorer. Microsoft's statement is also the same:
Microsoft strongly urges customers not to disable Automatic Updates because it provides the ongoing delivery of critical security and reliability updates to all enabled systems, and disabling Automatic Updates can potentially leave these systems more vulnerable. Microsoft encourages IT administrators who want full control over the deployment of updates to their systems to use WSUS, a free tool for users of Windows Server, or the more advanced configuration management tool, Configuration Manager. Microsoft has specifically created this Blocker Toolkit to safely disable and re-enable delivery of Internet Explorer 10 to systems in organizations that cannot use WSUS, Configuration Manager, SMS, or another update-management solution.
Download the blocker toolkit from below:
Toolkit to Disable Automatic Delivery of Internet Explorer 10
The toolkit is a single command file which will change a single registry key. When you run the blocker toolkit, you will be presented with a license agreement.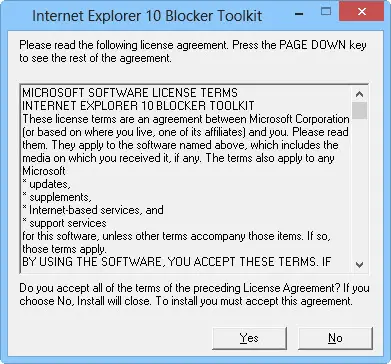 Next, you'll need to provide the folder in which the files are to be extracted.

Three files are extracted from the toolkit. You can run the file named IE10_Blocker.cmd. Basically it is a Registry update file. It makes changes to a Registry key which is used to block the update of Internet Explorer 10. The key that is changed is:
HKLM\SOFTWARE\Microsoft\Internet Explorer\Setup\10.0
And the block value is DoNotAllowIE10.
If this Registry key is present with the correct values, Windows Update will not install Internet Explorer 10. You can install it manually though. Please note that this toolkit will work on both 32-bit and 64-bit installations of Windows 7.
What are your views about Internet Explorer 10? If you are using Windows 7, will you update your IE9 to IE10?
Download IE10 Blocker Toolkit for Windows 7 (Direct download link)