Bitdefender product line for 2014 has been released. Last year, Bitdefender 2013 was released in September but this year Bitdefender has been quick to launch the new line of products.
The latest Bitdefender 2014 products include a new technology called Photon technology which makes sure that system performance doesn't get a hit while the security software is scanning the computer. Here's the official word:
Bitdefender Photon™ Technology is an innovative antivirus technology that boost scanning time, eliminates slowdowns and accelerates scanning speed by gradually (in matter of hours) understanding and adapting to your PC.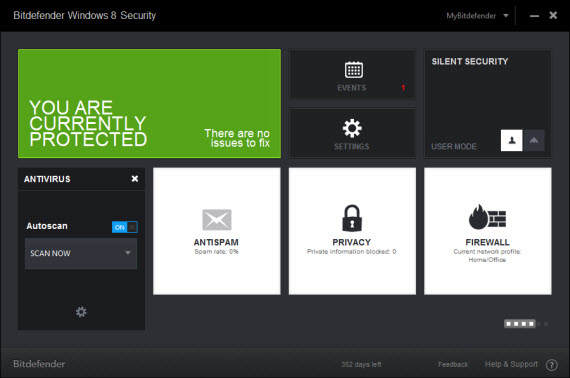 A new wallet has also been introduced which keeps your important data safe and secure. Other than that, minor improvements have been made to the already best performing products of 2013.
Here are the direct download links to offline installers of each Bitdefender 2014 product:
Bitdefender Antivirus Free 2014
Bitdefender Antivirus Free 2014 is a free antivirus which provides lightweight system protection against viruses. It lacks features like anti-spyware, wallet etc. An online installer is available for Bitdefender Antivirus Free 2014. When you run the installer, it will download the remaining files to your system for installation.
Bitdefender Antivirus Free 2014 online installer: Antivirus_Free_Edition.exe
Bitdefender Antivirus Plus 2014
Bitdefender Antivirus Plus 2014 includes features like Bitdefender Autopilot, USB immunizer, online remote management, secure browsing, wallet, social network protection, personal data filter et. It can be download from the direct download links below:
Bitdefender Antivirus Plus 2014 (32-bit): bitdefender_av_17_32b.exe
Bitdefender Antivirus Plus 2014 (64-bit): bitdefender_av_17_64b.exe
Bitdefender Internet Security 2014
In addition to all the features of Antivirus Plus 2014, the Internet Security 2014 includes features like parental control, cloud antispam, two-way firewall and file shredder. It can be downloaded from the following direct download links:
Bitdefender Internet Security 2014 (32-bit): bitdefender_is_17_32b.exe
Bitdefender Internet Security 2014 (64-bit): bitdefender_is_17_64b.exe
Bitdefender Total Security 2014
Bitdefender Total Security is the ultimate security suite containing all the features Bitdefender has to offer. It includes all the features of Bitdefender Internet Security 2014 and more features like Bitdefender Safebox (Online cloud storage solution), anti-theft, file encryption and PC tune-up. You can download it from below mentioned locations:
Bitdefender Total Security 2014 (32-bit): bitdefender_ts_17_32b.exe
Bitdefender Total Security 2014 (64-bit): bitdefender_ts_17_64b.exe